One Acts Tugs on the Heartstrings
On Dec. 8, 9, and 10, Huntley High School showcased One Acts in the choir room.
The One Acts were a set of seven mini shows, each tackling different ideas and stories. One of the fan-favorite and heart-warming acts was Tender Offer: the sweet tale of a daughter and her father.
The actors and directors had three weeks to prepare for the shows.
"It was definitely challenging because of the short amount of time we had but I can definitely say everyone was there to work and to have fun, so it was definitely a great experience." sophomore Sebastian Bolanos, playing Paul, Lisa's father, in Tender Offer, said.
The story focused on the relationship between Lisa and Paul, mostly on how Lisa did not feel that her father really put an effort into talking to her and attending her dance recitals as well.
As the act came to a close, applause from the audience echoed throughout the room, with a few people tearing up as well.
"I am so happy with the result. I loved working with these kids because they were dedicated, strong, and willing to work despite what was happening outside of rehearsal," senior Leslie Allen, director of Tender Offer, said. "They never created drama for other people, and I am so proud of everything that they have accomplished."
Not only was Tender Offer an amazing act, but so were all of the other ones as well. Tugging on the audience members' heartstrings with each opening and closing.
"I am very proud of all of the kids, not just my own," Allen said. "They each hold a piece of my heart and are all so talented and bright. I hope that the world is kind to them."
Hang on for a minute...we're trying to find some more stories you might like.
About the staffer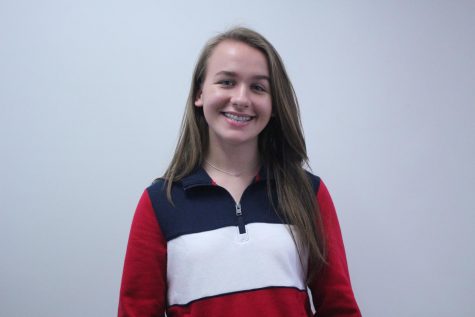 Madison Barr, opinion editor
Madison Barr is the opinion editor of The Voice and huntleyvoice.com; this is her third year on staff. In her free time, Madison likes to read and listen to anything remotely political and constantly has Twitter notifications on for her favorite journalist, Jake Tapper.