Winter Pep Assembly
Students start to slowly flood the gym this Friday, as the Winter Dance pep assembly began.
The crowd was small, but not quite, attendees cheered and yelled as the students performed various dances and sports games.
Each class had a group of students volunteers who had worked to put together a lip sync battle, a hamster ball soccer game, and multiple little three on three basketball games.
Some teachers decided to join in as well, they had different props and ideas to beat the kids in these little games.
At the end of the assembly it was time for Principal Scott Rowe to announce the spirit barrel winner.
The spirit barrel is a large wooden barrel that is decorated to incorporate every corner of the school.
It has a paintings of athletes and arts on all sides.
Whichever class shows the most spirit throughout the week of the dance and shows the most excitement at the assembly gets the spirit barrel in their name and gets a shower of candy.
This year the Junior Class, claiming the spirit barrel, provided the other students with an amusing performance during the lip sync battle, involving wigs and a Beyonce song.
The students in the bleachers scream and yelled to encourage their peers during their dance.
"The lip sync battle was hilarious, my friends and I couldn't stop laughing at the kids facial expression and dances," sophomore Loren Alberts said.
They left the crowd laughing and videotaping the exciting dance.
Although the bleachers were not packed with students, the student who were there, were sure to have gotten a laugh or two out of the event.
Originally, the assembly's purpose was to get the student body excited for the Winter Dance, unfortunately the dance was later canceled due to low attendance, but the assembly worked to bring spirit and pep to the students in regard to the home basketball game later that evening.
Overall, the assembly provided the students with a good laugh and an opportunity to get excited for upcoming school events.
About the staffer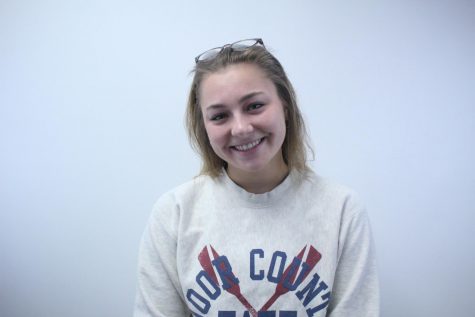 Emma Kubelka, editor-in-chief
Emma Kubelka is the editor-in-chief for The Voice and huntleyvoice.com; this is her third year on staff. Emma is also on the Huntley swim team. She loves to explore, learn, and challenge new things. She is proud to be on staff and looks forward to the future.