Athletes Take Aim at Trump
Early Saturday morning, before many of us had gotten up, President Trump withdrew his White House invitation to the Warriors in response to comments made by star NBA point guard Stephen Curry. This made waves across the United States with many of the most prominent figures in sports firing back. The most notable of these athletes was Lebron James, a three-time NBA champion and four-time MVP, who took a shot at the president over Twitter.
"U bum @StephenCurry30 already said he ain't going! So therefore ain't no invite. Going to the White House was a great honor until you showed up!" James said.
This was met with overwhelming support on Twitter receiving over 1.3 million likes, making it the most liked tweet by any athlete in history.
Curry later spoke to the media regarding Trump's actions.
"It's just kind of beneath, I think, a leader of a country to go that route," Curry said. "It's not what leaders do."
Trump responded to the backlash with a flurry of tweets, but they were not directed at the NBA. Instead, they were directed at the NFL. He tweeted at them throughout Saturday and well into Sunday.
"NFL attendance and ratings are way down," President Trump said. "Boring games yes, but many stay away because they love our country."
He later called for a boycott of the NFL on Twitter.
This unethical behavior could possibly be chalked up to bad blood over his failed business dealings, and subsequent lawsuit, with the NFL in the 1980s. He was awarded a measly $1 after a jury found the NFL guilty of violating anti-monopoly laws. This was later tripled to $3. 
In response, the Commissioner of the NFL, Roger Goodell, made various statements.
"The NFL and our players are at our best when we help create a sense of unity in our country and culture," Goodell said.
Other team owners came out and called President Trump's remarks disappointing, divisive, offensive, irresponsible, and the list goes on. The players' response to this was one of solidarity. They could be seen kneeling or linking arms during the national anthem in protest of Trump's comments.
This reignited last year's controversy; is it disrespectful to kneel during the national anthem?
Trump's stance on this remains unchanged. He reaffirmed this with a tweet Sunday afternoon.
"Standing with locked arms is good, kneeling is not acceptable," President Trump said. "Bad ratings!"
With this year's football season still in its infancy, and basketball season just a week away, it will be interesting to see what happens in the next months.
About the staffer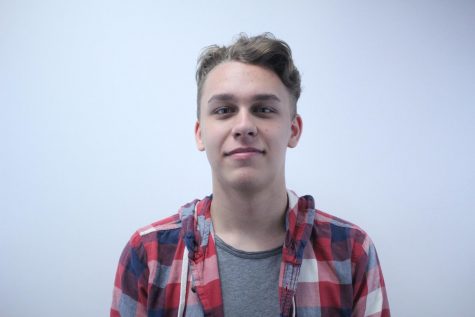 Austin Stadie, business manager
Austin Stadie is a second year staff writer and the business manager of The Voice. His interests include politics, sports, and music, all of which he writes about frequently.