Sam Moore rocks the house at ILMEA District Competition
He stands next to two boys, also in high school, singing notes and breathing in time with the rhythm of the music. Once the song finishes, the same feel of inspiration and accomplishment comes over him as he sees his dad in the audience proudly clapping along with the rest of the parents and teachers. This is when he realized that his hard work had paid off.
Junior Sam Moore has always been heavily influenced by music ever since he was young. With his mom being a choir director and most of his family being music teachers or performers, you could say that it runs in his blood.
Moore was a freshman when he first was introduced to this opportunity that could change his life, but he decided to be a part of it in his junior year.
The Illinois Music Educators Association (ILMEA) is an organization that takes in high school students from across the state of Illinois to audition and participate in a series of auditions and performances. These students who perform are then considered to be a part of a statewide competition.
"There is a wall [in the school], the Huntley Musicians Wall of Fame, featuring all the people in our school's history that have made the all-state competition," Moore said. "My goal is, since I have made the district competition, I want to make it to the all-state competition. I want to get on that wall."
Even though Moore has the talent to definitely win and a perfect pitch ability, that doesn't mean that this performance was an easy one.
"It was pretty rigorous, but I learned a lot and the performance was incredible," he said.
The performance consisted of a mass rehearsal that began at 8 a.m., followed by a special visit by a clinician who gave them advice and tips to make their performance better.
He wants to make sure that he can bring back what he has learned from his experience to the high school choir and take on a role of leadership.
"He came in completely as the leader and everyone was just following him," choir teacher Alexandria Bieber said. "He has helped people and encouraged people to actually lead themselves."
Moore hopes to be a music teacher later on in life, but he does not want to commit to anything as of yet. However, he does know that he definitely wants to pursue music: his greatest passion.
"Music has essentially just become part of me," Moore said. "So when I'm singing or performing music in general I feel like a hidden part of me is coming to life."
About the staffer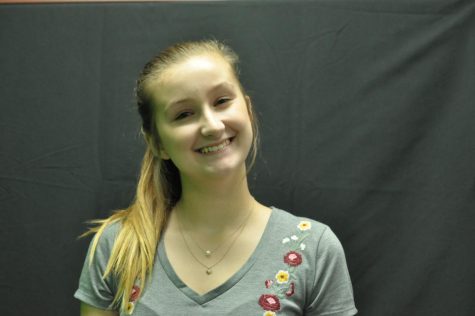 Riley Murphy, editor-in-chief
Riley Murphy is the co-editor-in-chief and this is her third year on staff. She enjoys taking walks with her two dogs (Max and Ruby) and staying active outdoors. Some of her favorite shows include "Friends," "The Office," and "The Act." If she's not watching her favorite shows, she's most likely curled up with a good mystery novel.