The Red Raiders' Volleyball Team Extends Their Win Streak
The Red Raiders girls volleyball team beat St. Charles North during sectionals on Monday, Oct. 29. This changed their 21 game win streak to 22.
Before the game, the varsity head coach Karen Naymola talked about what the team has changed going into this game.
"We know what we have to do to beat St. Charles North. [We] know we have to run our offense, and know what tendencies their hitters have," Naymola said. "Our block is adjusting a little bit. We are going to give less line, and force them to swing cross-court, so we can dig them."
The game started off with Huntley having a large lead, but then St. Charles North had a comeback and ended up winning the first set, 23-25.
During the second set, Huntley was always behind by a few points. When it looked like all was lost, Sarah Zayas served nice times in a row, with an ace at the end, which gave Huntley the win, 25-21.
Huntley came into the third set with the mentality to win. They started the set with great momentum, and it continued throughout the set, even when they were down by a few points. This mentality gave them the win, a score of 25-21.
Some of the offensive leaders of the game were senior Loren Alberts with eight kills, senior Marissa Deem with six, sophomore Emma Konie with four, and senior Julia Johnson with 11.
Konie talked about the mentality of the team during the third set.
"When we were playing, we huddled up in the middle at one point, and said that we have to keep playing like a family, and we have to pushing. Just keep fighting for everything," Konie said.
Alberts compared where the team was at the beginning of the season and where they are now.
"The first game, we were good in the beginning of the season, but now we have this mentality where we refuse to lose. That's really helped us finish the games, and just work together," Alberts said.
As the team continues on their road to state, Coach Naymola thinks there is much more this team can show.
"Winning regionals is always a huge accomplishment, but this team has great potential. We think that there is a lot more that we can celebrate this year," Naymola said.
About the staffer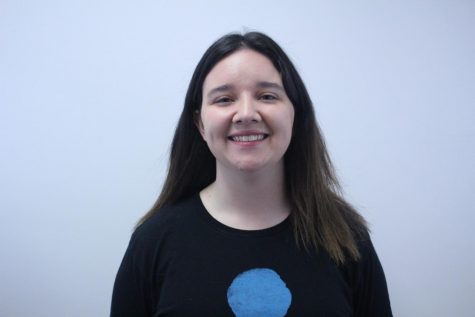 Danielle Rhody, sports editor
Danielle Rhody is the sports editor of the Voice. This is her second year on staff. In her free time, she likes to listen to music, watch Netflix, and read. She loves to watch sports, especially football and ice hockey.