"The Haunting of Hill House": A New Level of Terror
Successfully recreating a horror story can be quite the challenge, but director Mike Flanagan proves that it is his niche. Flanagan gives Shirley Jackson's 1959 novel a terrifying, yet brilliant spin in the show "The Haunting of Hill House."
The Netflix horror series tells the story of a family who lived in Hill House, the most well-known haunted house in the United States.
Though the plan was to live there temporarily, Hill House serves as monster that permanently damages the lives of Hugh and Olivia Crain, and their five children.
Nowadays, it is hard to scare an audience with just dark settings, ghosts, and jump scares. Flanagan not only brings these horror elements to a new level, but he makes the members of the Crain family as terrifying as the paranormal occurrences.
The show consists of each scene switching between past and present, through smooth, clever transitions. It is fascinating to see the family's past and how it affects their future circumstances.
Shirley, Luke, Theodora, Nellie, and Luke are the children of the Crain family. Each child deals with their own demons, which become more horrifying to watch after each episode.
Just like how Hill House traps the people who once lived there through terror and mystery, Flanagan traps his audience with the mere curiosities of what could come next, and of how things could possibly become more petrifying.
The first few episodes were mild in scares, but each episode truly gets increasingly spookier. By the time I reached the last episode, I did not know what terrors to expect.
Apart from the screams and jumps, the show also caused tears of sadness.
Flanagan does an excellent job of presenting the love and pain that each Crain felt for one another. The tragedies faced by the siblings and parents strike a chilling, emotional effect on the audience.
I felt most compassion for twin siblings Nellie and Luke. Both twins shared experiences that no other family member began to understand. Despite the destructing tragedies they faced, their bond remains unbroken.
I was mind blown after watching the last episode uncover secrets of the house and characters. All the exposed mysteries fit together as puzzle pieces to the tragic story of the Crain family.
Horror junkies are in for a terrifying and heartbreaking rollercoaster once they take on "The Haunting of Hill House."
Hang on for a minute...we're trying to find some more stories you might like.
About the staffer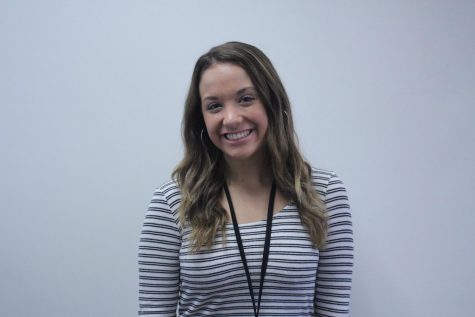 Mady Borst, staff writer
Mady Borst is a staff writer for The Voice and huntleyvoice.com. This is her first year being a part of the staff. In her free time, Mady enjoys singing, writing poetry, and trying just about every restaurant there is in town. She also loves to volunteer and travel.