Feeling the Music: Sophomore Mollie Paeth Expresses Her Talent
The HHS Orchestra only consists of a small group of 20 to 30 students. Among these students is sophomore Mollie Paeth, who's played violin since five years ago, in fifth grade.
She's been taking lessons every Saturday since then to keep up with her practice; each week, she brings her violin how on the bus to dedicate one day after school to practicing.
"My dad played violin when he was in high school, and my brother started playing with the middle school Orchestra," Paeth said.  
It's been with her family, and she loves it. But she's not quite sure what she'll do with it yet. She's been interested in biology lately, but she wants to see where the violin will take her.
Unfortunately, the orchestra program is so new and not really heard of, it might cause some issues. Paeth herself hasn't had much experience either.
"I was in seventh grade when the orchestra started, and it was only sixth graders doing it then," Paeth said. "It's just always followed me, so this is the first year I've been able to do it through the school."
In fact, the orchestra plays before the choir concerts; there's no established connection between orchestra and band yet. With roughly only 20 to 30 students, it's no wonder the program hasn't bloomed at the high school yet.
"It was extremely frustrating [for orchestra to start when I was in seventh grade], because it's not like they can bend the middle school's schedule to be able to [allow other kids to take orchestra]," Paeth said.
Despite the newly formed orchestra at HHS, Paeth plans on expanding her musical horizons next year by entering a band class. Her friends convinced her that percussion was worth the try. She's looking forward to joining and learning more.
Listening to music can alter moods and relieve stress. But Paeth encourages all students to play an instrument, even if it is just casually like her. Exploring the world of music is a wild journey.
"It's something that takes a lot of time, but it's one of those things where once you understand how to do it, it's really cool. You realize, oh, hey, I can actually make music and do this thing that I worked for," Paeth said. "[Orchestra] really doesn't even feel like a class. It feels more like a break in the middle of the day where we get to play some music and have a good time."
About the staffer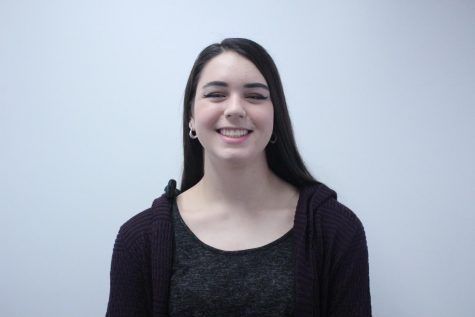 Jordyn Grist, staff writer
Jordyn Grist is a first-year writer for The Voice. In her free time, she enjoys a variety of athletics, including Lacrosse, and discussing her favorite books, TV shows and movies. She also writes poetry and stories, one of which she is currently editing to be published. She used to play the trombone and piano, and she is now a creative cook and enjoys meditating and giving Tarot Card readings.