February Best Dressed
As she wakes up, Kayla Yakimisky looks at the outfit she has planned for today and can feel the excitement rising. Not only is this outfit adorable, but it's also cozy and meaningful. Each piece that Kayla is wearing has a backstory and all that means something to her.
"Honestly, when it comes to fashion, I'm more concerned about having clothes that make me feel good than following the trends," Yakimisky said. "Sometimes I see other girls look incredible, wearing something super cute or fun and I keep things like that in my mind when it's time to decide what I might like for myself."
Choosing to not follow celebrities on social media has a huge effect on Kayla's style, she doesn't dress to look like anyone else or to impress, she dresses to love herself. With every outfit, her top three goals are to be comfortable, to feel more confident and empowered, and to let people know through her outfit that she is a put together person.
Kayla nails each of these goals on the head with her cute, simple, and professional look she wore. All of the items were super comfortable, and super meaningful.
This look includes:
Pink Jeans- Old Navy, a Christmas gift from her family
A Maroon Cardigan- Mudd Brand, a Christmas gift from her mom
Her scrunchie- One she wears almost every day, that is identical to one of her best friends'
Her "Cool Grandma Glasses"- Kate Spade Brand
Her Ring- Pandora, a gift from her grandmother
Her Floral Top- Ultra Flirt brand from her mother
Each piece from this outfit has extreme sentimental value and extreme style! With looks like this, Kayla is ready to take on any challenge.
About the staffer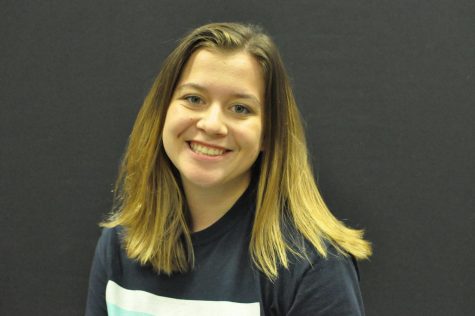 Ashley Reilly, editor-in-chief
Ashley Reilly is the co-editor-in-chief of The Voice and it's her second year on staff. She was a competitive tumbler for 10 years. In her free time Ashley like to coach tumbling, hang out with friends, and listen to music.