Girls volleyball beats Burlington Central during emotional senior night
As parents and fans pack into the bleachers at Huntley High School on a Thursday night, the adrenaline and the emotions run high. Tonight is the night that we honor our seniors: senior night. This years seniors consist of Bridget Bethke, Kylie Jenkins, Josie Scmitendorf, Taylor Jakubowski, Katelyn Bower, and Ashley Konecki. 
The night began with honoring the seniors on the team this year. The girls walked out with their parents and accepted their bouquet of flowers, holding back tears, and hugging one another knowing this may be one of the last times they play together as one.
"I am so emotional right now. This is probably my favorite game. I'm going to miss my friends. I learned how important it is to be a team," Konecki said. "These girls I've played with the past four years are my best friends off and on the court. I'm going to miss it so much."
Starting off the game  Konecki scores the first point with a powerful hit. The energy in the gym was radiating from the players to the fans in the stand. Teammates cheering each other on as they go up to serve. This team is unlike any other team we've seen before.
"I think the closeness of the team is one of the most important things that separates you from being a good team and a great team," coach Karen Naymola said. "I've always told them that the best teams I've coached are not necessarily the best and most athletic teams in the conference, but they are the teams that are going to play for each other and do anything they can for each other. This is one of those groups that we got lucky enough to have both."
Huntley defeated Burlington Central in just two sets, 25-14 in both. Senior night ended on a happy note while also placing Huntley as number one in the Fox Valley Conference. The team is excited to end the season off with a win, but are ready and strong for post season next week.  
About the staffer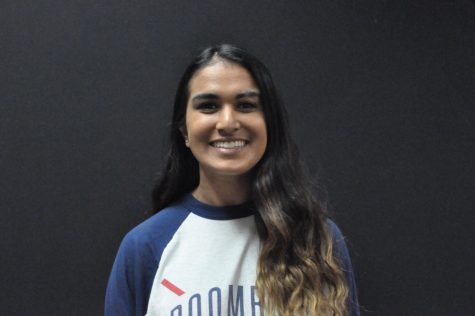 Tanpreet Bhathal, floating editor
Tanpreet Bhathal is a floating editor for The Voice and this is her first year on staff. She was born in California and lived there for six years. In her free time, she likes to spend time with friends and family, try new things, be outside, and go to sporting events.