Sammy Martell, a valuable volunteer
Hours and hours every week, spending time in hospitals, schools, and the Huntley Park District. Busying up Saturdays and weeknights can be a challenge while balancing school work and family, but Sammy Martell manages it to accomplish it all with a smile on her face. 
Sammy Martell is a senior at Huntley High School and enjoys volunteering in the Huntley community. Sammy started volunteering in middle school and has loved every volunteering opportunity she was able to participate in. The community has so many opportunities available, she had to start taking advantage of them. 
When Sammy took her first steps into Huntley High School, she knew she wanted to be involved and help others. She has a big heart and cares for everyone. Today, Martell is a part of National Honor Society, Medical Academy, Buddies Club, and Silver Cord. 
Her time at the high school has significantly impacted her. 
"I spend the majority of my time at school instead of at home. I also spend a lot of time out in the community volunteering and helping people that need it," Martell said.
High school has allowed her to express her love for volunteering, helping others, and impacting their life in many positive and inspiring ways. 
"Throughout my high school career, I have had two major accomplishments, my first one being the amount of volunteering hours I have. My goal was to hit 500 by the time I was going to graduate," Martell said. "But the track that I am on right now, I am probably going to graduate with about 700. My second greatest one is becoming a National Honor Society Vice President." 
These two amazing accomplishments are very special to her. It is absolutely amazing that Sammy can balance this outstanding but challenging lifestyle while still setting aside time for her friends and family. 
Sammy enjoys volunteering at local hospitals, Elementary schools, and park district events. 
"Every Wednesday, I do Big Brothers Big Sisters at Mackeben Elementary with my little Karena. Every Friday, I go back to Conley and I spend time with my third-grade teacher, Mrs. Chobridge, and I help out in her class for two-to-three hours," she said. "Then occasionally I will volunteer at Advocate Sherman Hospital on Saturdays. Finally, I do other volunteering throughout the community which includes dances at the park district." 
Although Sammy loves every volunteering event, she does have some favorites that she did. One of her most memorable events was a two-week mission trip to Norway last summer, where she painted a church for a congregation of 20 people. She also was fond of a service project this past fall, where the entire district was able to come to HHS to participate in a safe trick-or-treating. 
Outside of school and volunteering, Sammy loves to spend time with her family and friends. Her friends and family are most important to her and constantly inspire her. They are always very proud of her and the amazing things she has done for her community.  
"I really enjoy volunteering. It is one of my passions so I take it very seriously and to heart. Every time I go to volunteer, I am making an impact on someone's life. In some situations you can really tell that the people really appreciate you being there," Martell said.
Sammy has and will continue to impact people's lives every day. Her help is truly valued by everyone.
About the staffer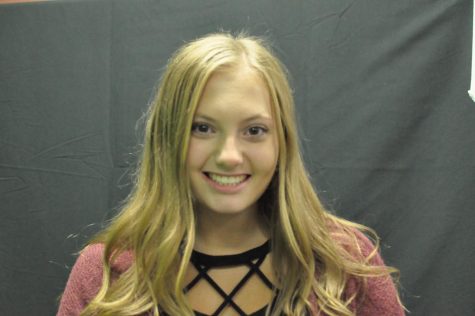 Taylor Calame, staff writer/photographer
Taylor Calame is a first-year staff writer and photographer with The Voice. She has been dancing for 12 years. In her free time, she loves to bake, take photos, be with family, and travel around the world.