Marissa Mikutis: Drama over doubt
When the 2020 musical "Anything Goes" was announced last spring, sophomore Marissa Mikutis set her sights on one thing: the role of Hope Harcourt. She spent all summer preparing for her audition. After a stressful and competitive round of callbacks, the decision on which student would be playing Hope was out of Mikutis's hands. However, the day the cast list was released, Mikutis knew her dedication had been worth it.
"It's crazy because I wanted the part of Hope so badly and I ended up getting it. That was such a satisfying feeling," Mikutis said.
Mikutis's journey in theater starts when she was in fourth grade. A flyer asking elementary students to try out for HHS's production of "Shrek the Musical" caught her eye. She then decided to audition and earned the role of young Fiona. This experience gave Marissa a love of performing. 
Since seventh grade, Mikutis has been a part of every Marlowe and Huntley Musical. As a freshman, she appeared in "Mamma Mia!" and "Sister Act." Her favorite part of performing is the thrill of it all.
"People are always like 'How do you do it? How do you stand up there?' I just enjoy that feeling. I might be nervous, but as soon as I'm out there, it's just such a good feeling," Mikutis said.
Through music and theater, Marissa has found an outlet and something she wants to carry on with later in her life.
"Theater and music is just my whole life. I can't picture myself without singing or performing," Mikutis said. "It's taught me to not be afraid to put myself out there, because you'll never know until you do it".
While theater has had such a positive impact on her life, Mikutis still struggles with confidence. Through the audition process, Marissa felt the presence of nerves and self-doubt in the back of her mind, but she pushed the thoughts out of her mind in order to do her job. However, after securing the role of Hope, doubt still lingers.
"There's moments where I get in my head and I'm like oh, I don't know if I'm doing the best that I can. The most challenging thing is feeling confident and that I know what I'm doing," Mikutis said.
To combat this, Marissa reminds herself that she was given the role for a reason. 
"I'm still working on [confidence]. But I feel like younger me just never really had confidence in herself, but look where I now," Mikutis said.
Before she steps on stage, Mikutis reminds herself to breathe. She knows how hard she has worked. She knows the hours of dedication put in, from preparing her audition to the final dress rehearsal. But most importantly, she knows that singing and performing bring her so much joy, and she is about to share it with the crowd.
About the staffer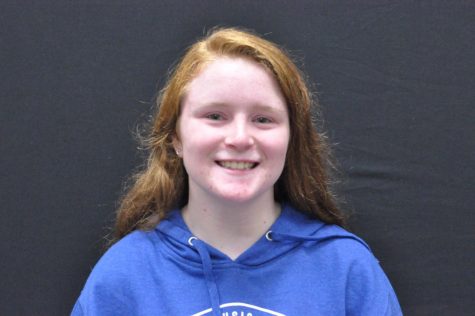 Sara Hursey, staff writer
Sara Hursey is a first-year staff writer for The Voice. Fun fact: she has traveled to both of the non-continental states in America. In her free time, she loves coaching gymnastics and helping young kids enjoy the sport.