Senior Alyssa Kelly masters two varsity sports
As traditions and routines end as the year goes on, senior Alyssa Kelly wanted to go back to her roots and try something she loved again. During her first week of practice, she sat on the floor of the field house, twiddling her shoe laces and not knowing what to expect from the weeks to come of being a new member of the girls track and field team. That was until she heard her name on the varsity roster to run the 60 meter dash at the meet that same weekend. 
As the spring sport season began, Kelly did not know what she wanted to do with her recent free time, due to the end in her high school career of cheerleading. 
In middle school, she had done track and loved it but when high school came she couldn't find the time to continue doing it. That was until senior year. 
"I didn't do it in high school because when cheer would end we would go right into clinics or tryouts. I would also do program cheer outside of school so I would never have time. But now that I'm a senior I have free time so I took advantage of being able to do something I love again," Kelly said. 
Since it was something she hadn't done in a while, Kelly just wanted to enjoy her time on the team. However, her excellence and ability to work hard earned her great opportunities in the next weeks. 
"I was definitely going hard at practice, not thinking I'd be in the meet but I remember coming home and telling my parents being so excited," Kelly said. 
In addition to running at her first meet, the amount of opportunities and her ability to be successful has skyrocketed. 
"Since it's my first time, they've been throwing me in everywhere including the 4×200 meter relay, the 60 meter dash, the 400-meter dash, and also long jump," Kelly said. 
Although she is enjoying her time on the team, things have been different coming from a team sport to a more individual sport, due to the fact that many of the events in track and field are individual events. 
"The toughest thing for me so far coming from cheer to track is that although track is very much a team sport, it can also be a very individual sport. This year, our [cheer] team was a bonded family so coming from a family bond to individual sections has been different," Kelly said.
However, she has made many new friends and her teammates have been very supportive and helpful with her newfound talents.
"The girls on the team have been so welcoming to me. I was kind of nervous going into it because the other girls were already a family but they've been so helpful with me," Kelly said. 
Kelly is very excited to see what this season brings her and the new relationships she will form with her teammates and coaches. 
"After these three weeks, I absolutely love it and I'm having so much fun trying out new things. It's definitely been a great experience so far," Kelly said. 
About the staffer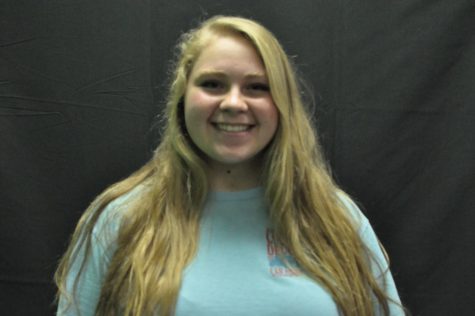 Erin Richardson, staff writer
Erin Richardson is a first-year staff writer for The Voice. Erin has been in several musicals at the high school and is excited to finish off her high school career with one more. When not at work, she enjoys singing and acting, listening to music, and hanging out with friends.