Governor Pritzker addresses big changes for the rest of the K-12 school year
During Illinois Governor J. B. Pritzker's address given on Friday, April 17, he announced all K-12 schools will be closed for the rest of the school year. E-learning would continue at home, but no information is given about extending the stay at home order.
"I know that many have felt that this was inevitable, but trust me when I say this was not a decision that I made lightly," Pritzker said. 
"That routine is a source of joy for so many, but it also opens up a nearly limitless opportunity for potential COVID-19 infection in a time when our healthcare workers, our researchers, our scientists, and our first responders need us to bend the curve downward. Folks, I've said time and time again, my decisions are hard ones, but they will follow the science and the science says our students can't go back to their normal routine," Pritzker said. 
Schools are still in charge of keeping in touch with students daily and handing out work. This can be from 30 minutes to kindergarteners to between two to five hours for high schoolers daily. 
To help with students in this hard time, there is a website dedicated to mental health resources with guidelines on how to talk to children about this pandemic.
"All our efforts are geared toward meeting our students where they are and giving them the tools and the support they need for success," Pritzker said. 
There will also be $569 million to support the K-12 schools funded by the local government, to help provide access to technology during e-learning days. 
"Dollars that can help equip students with technology and internet access to enhance remote learning, support teachers in developing their remote instruction skills, and assist schools in continuing to provide meals to children and communities," Pritzker said. 
This money will go directly to the schools and it is decided by the Illinois State Board of Education to distribute this money to the districts that need it the most. 
Illinois has also seen the largest spike in new coronavirus cases so far with 1,842 in a single day. According to Pritzker, this does not mean Illinois has reached its peak despite this increase of cases. The increase in testing could have also contributed to this peak according to Illinois Department of Public Health Director Dr. Ezike.
For people who are experiencing illness and want to get testing for COVID-19, there has been an increase in testing capacity. People will not need a doctor's clearance to get testing. 
"If you have this kind of curve, but you flattened it, it means it takes longer to get to the lower peak, but it takes longer to get there," Ezike said. "The science does show that social distancing works".
Even if the state of Illinois is slowly flattening the curve, people are still encouraged to keep 6 feet apart from others, washing hands frequently, and wearing masks when in public.
About the staffer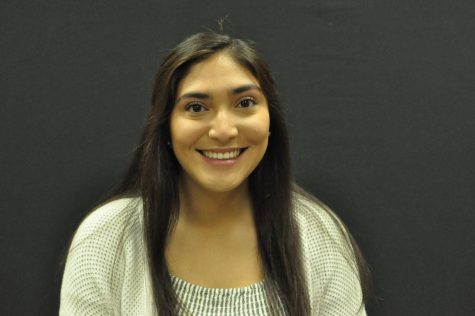 Sarahi Barcenas, staff writer/photographer
Sarahi Barcenas is a staff writer and photographer for The Voice and it's her first year on staff. Fun fact: she can speak both English and Spanish fluently. In her free time, Sarahi likes to hang out with friends, watch Netflix, or listen to "The Weeknd." She is excited to be on the staff and hopes to learn a thing or two while being a part of the team.