"Stranded Views from Quarantine" Preformed by Huntley High School's Theatre Workshop Class
Everyday during third hour twenty students gather with english and theatre teacher Christine DeFrancesco in the PAC to attend their Theatre Workshop Class. A class that teachers students skills they need to know to be successful in the theatre world. With the COVID-19 pandemic Huntley High School has moved into a completely online learning. How is a theatre class supposed to go on with no stage, no physical contact, and no in person practice? The answer is monologues.
"Stranded Views from Quarantine" is a monologue play by Stage Partner Playwrights which explores different stories from those trapped on a cruise ship during the beginning of the pandemic.
"These monologues are intended for school drama programs and online class- room/student use; permission and/or distribution is not required for those purposes. All other rights are reserved by the individual authors," Stage Partner Playwrights said.
Each of the students in Theatre Workshop was assigned a monologue to preform form this play. Here are their performances.
"Mine" written by Adam Szymkowicz and preformed by Peyton Reed 
"The Magnificent Mysterio" written by Carrie McCrossen and preformed by Luke Bucaro
"Re: The Pact" written by Will Quam preformed by Izzy Griffen
"Sock Talk" written by Sonya Sobieski preformed by Logan Blake 
"By the Dock" written by Jon Jory preformed by Ashton Miller
"Wilding in Idaho" written by Diana Burbano preformed by Lauren Krelle
"20,000 Steps" written by Chris Barlow preformed by Sarah Reilly 
"Not it!" written by Jacqueline Goldfinger preformed by Taryn Sargent 
"Clarice, the Friendly Ghost" written by Jane Best preformed by Riley Hagberg
"Towel's It Hangin'?" written by Emily McClain preformed by Nathan Connelly
"Reform" written by Emily Hageman preformed by Donna Fondjo 
"I think…I do" written by Ian McWethy preformed by Andrew Faber
"On Board the Rebecca" written by Peter Royston preformed by Riley Partin
 "Just Breathe" written by Maria McConville preformed by Tori Smolen
 "Clean Hands"written by Alan Haehnel preformed by Zack Szeszol 
" Formal Night" written by Stephanie Buckley preformed by Rachel Meister
About the staffer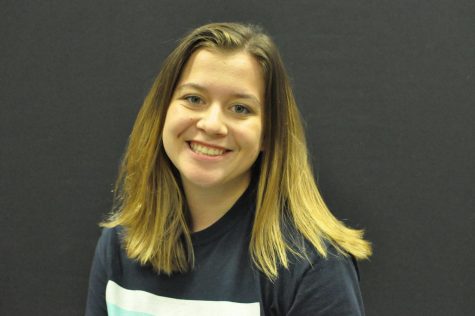 Ashley Reilly, editor-in-chief
Ashley Reilly is the co-editor-in-chief of The Voice and it's her second year on staff. She was a competitive tumbler for 10 years. In her free time Ashley like to coach tumbling, hang out with friends, and listen to music.