Fantasy Masters: Week 15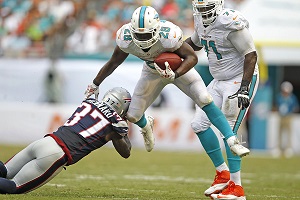 Miami Dolphins (7-6) @ New England Patriots (10-3) Sunday 12 PM CST
Tyler's Pick: New England Patriots
Why: New England is on top of the AFC and Miami is the last team that poses a challenge for them. They should be motivated against a division rival that made an incredible comeback to beat them in Week 1. Tom Brady doesn't lose at home, and a win on Sunday should all but clinch the first seed in the AFC.
Charlie's Pick: New England Patriots
Why: While Miami has been somewhat of a surprise to teams this year, New England has been as dominant, as of late, as everyone knew they should be. With a finally healthy looking Gronkowski and a re-tooled defense, this New England team should have no problems winning in all phases.
Fantasy Impact: This game is going to get rough quick for the Dolphins, so running with Ryan Tannehill as he tries to make a comeback may lead you to garbage-time yards, but a few interceptions as well. The Dolphin's star receiver, Mike Wallace, will be taken out of the game by Darrelle Revis, making him a non-factor in fantasy this week. On the other side of the ball, look for the tight ends of New England, Tim Wright and Rob Gronkowski, to abuse a Dolphin's team that is 23rd against tight ends this year.
Cincinnati Bengals (8-4-1) @ Cleveland Browns (7-6) Sunday 12 PM CST
Tyler's Pick: Cleveland Browns
Why: Cleveland needs a win to keep their playoff hopes alive. Their defense is elite and giving Johnny Manziel his first start should spark an offense that has been stagnant under Brian Hoyer. With elite weapons like Josh Gordon and Jordan Cameron, Manziel should light up a defense that has been shaky lately.
Charlie's Pick: Cincinnati Bengals
Why: Both teams are middle of the road defensively, so this game boils down to offensive matchups. If good Andy Dalton shows up on Sunday, the difference for me is that the Bengals have two go-to receivers that have been productive for them all year, the Browns have Josh Gordon, who had two catches last week.
Fantasy Impact: Josh Gordon should be leaned on this week, but was terrible last week. With a rookie quarterback starting for the first time, the Browns may look to run with it a little more, so look for Isaiah Crowell and Terence West to have increased production. A.J. Green should see a fall in production as he will be shutdown by Joe Haden, but look for Dalton to go to his second receiver, Mohamed Sanu, early and often.
Dallas Cowboys (9-4) @ Philadelphia Eagles (9-4) Sunday 7:30 PM CST
Tyler's Pick: Philadelphia Eagles
Why: Philadelphia destroyed Dallas in Dallas on Thanksgiving. This game should be no different. Philadelphia's defense is shockingly good and their high-powered offense should be able to continue their dominance.
Charlie's Pick: Philadelphia Eagles
Why: This Cowboys team is reliant on the production from an elite offensive line and its running game. The Eagles defense should be able to take away the run from this team and should also have no problems scoring the ball on a shoddy Dallas defense.

Fantasy: The Eagle's run defense should be able to ford off the aggressive running attack headed by DeMarco Murray, forcing the Cowboys to pass more often. For the Eagles, LeSean McCoy and Darren Sproles should be able to run all over a shaky  Cowboys defensive line. Through the air, Dez Bryant and Jeremy Maclin should see heavy target numbers, as they are the leading receivers for their respective teams.