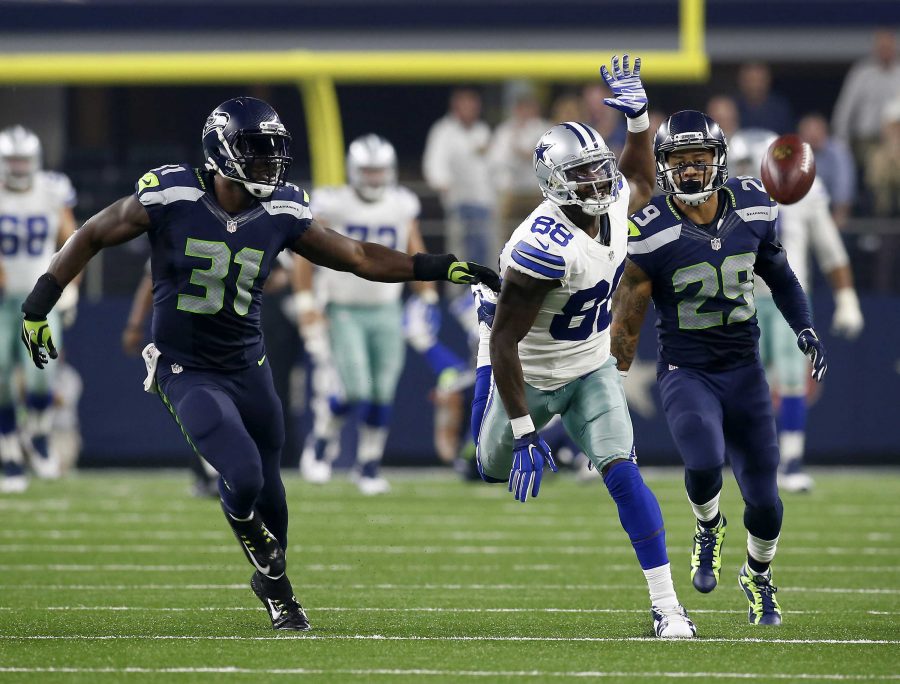 Green Bay Packers (6-1) @ Carolina Panthers (7-0) – Sunday Nov 8 @ 12 p.m. CST
Tyler's Pick: Carolina Panthers
Why: Both teams have been dominant this year, but Green Bay is coming off a bad loss to Denver. Carolina has an elite defense with the secondary necessary to cover Green Bay's explosive receivers, and Packers quarterback Aaron Rodgers had trouble connecting on passes last week. Cam Newton leads a rejuvenated Panthers offense that is shockingly efficient and should easily shred an average Green Bay Defense.
Charlie's Pick: Green Bay Packers
Why: While Carolina has an above average run game and defense, a good recipe for success in today's NFL, Green Bay's offense is too good for the Panthers to dominate with time of possession and defensive intimidation.
Fantasy Impact: Greg Olsen is in for a big performance as the Panthers struggle to keep up with an explosive Packers offense. Randall Cobb, James Jones, Richard Rodgers and Davante Adams are worthy plays as Aaron Rodgers looks to get back on track after a disappointing outing against a historically good Broncos defense. The Packers are the prefered defense in this matchup as a likely streaming target as Carolina's offense is one dimensional. I'd trust Aaron Rodgers over Cam Newton, but if Cam can add some yardage over the ground, he could be a valuable play this week. Jonathan Stewart has been productive this year and should be considered a RB2 candidate for week 9. Of the Carolina receiving core, Ted Ginn Jr. Is the only player worth a flex spot. Eddie Lacy and James Starks will get work in goal line situations and have a good chance to score.
Philadelphia Eagles (3-4) @ Dallas Cowboys (2-5) – Sunday Nov 8 @ 7:30 p.m. CST
Tyler's Pick: Dallas Cowboys
Why: Dallas' offense should be improved by the return of wideout Dez Bryant, and the possibility of a Tony Romo return would bring this offense back to its elite status. Philadelphia's defense has been shaky, and Dallas has an amazing offensive line that should be able to open holes for Darren McFadden and give Matt Cassel time to find open receivers. Philadelphia has struggled on offense all year, and the Cowboys should be able to force Sam Bradford into deep throws that he has not made his entire career. The Cowboys should easily get a win here.
Charlie's Pick: Cowboys
Why: The Cowboys defense has been sneakily one of the better units in football this year and should be able to limit a struggling Eagle offense. On the flipside, Dallas's offense is trending upward with the return of Dez Bryant and a change at the running back position.
Fantasy Impact: There are not many big name performers on either team. Bryant needs to be started in all leagues because he is an elite receiver with the propensity to go off at any time. McFadden is a solid running back since the position is relatively shallow and he gets a lot of attention in the passing game. Dallas tight end Jason Witten has been elite for years and is frequent check-down target, so he could see some value in PPR leagues. For Philadelphia, running backs DeMarco Murray and Ryan Mathews are the only players that are must-starts. They get a lot of touches in both the running game and passing game, and one of them should score this game. Wideout Jordan Matthews is an okay start if you need WR depth, but he has been inconsistent all year and Bradford is a below-average quarterback. Tight end Zach Ertz deserves some attention but is relatively touchdown-reliant.
Chicago Bears (2-5) @ San Diego Chargers (2-6) – Monday Nov 9 @ 7:30 p.m. CST
Tyler's Pick: San Diego Chargers
Why: Chicago has been absolutely dreadful in the secondary this year, and San Diego's passing attack is elite. Philip Rivers finds ways to throw 2 or 3 touchdowns every game, and that shouldn't change against a Chicago defense that does not scare anyone. San Diego is nearly as bad on defense, but the Bears will be hurt by the absence of running back Matt Forte. Jay Cutler should still have a field day finding Alshon Jeffery and Martellus Bennett wide open every day.
Charlie's Pick: Chicago Bears
Why: Chicago's defense has been bad this year, but San Diego's has been equally terrible. With Matt Forte out, Look for the Bears to finally start airing it out more down the field, an area where they've had the most success this year. This isn't the San diego team of old. They are beatable.
Fantasy Impact: Rivers is a must-start at quarterback, he has been elite all season and is third in average points. San Diego running back Danny Woodhead, tight end Antonio Gates, and wide receiver Stevie Johnson are also must-plays, especially in PPR. The Chargers barely run the ball, so these three should see plenty of targets against a weak secondary. For Chicago, Cutler, Jeffery, and Bennett will be strong performers since this game should be a shootout between good offenses and awful defenses. Running back Jeremy Langford is a good play this week with Forte out. The Bears generally give their running back a lot of touches on the ground and threw the air, so he should rack up a significant amount of points at a shallow fantasy position