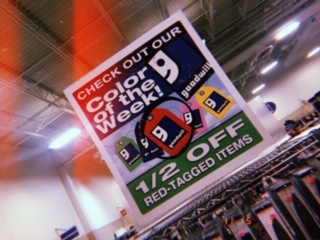 The other day I went to Goodwill in Huntley with our photo editor, Arianna Sanchez. We found an abundance of clothes!
I was able to find a couple pairs of jeans as well, which proved to be a success as they all fit me very nicely, from brands ranging from Garage and Aeropostale. Arianna, on the other hand, found a few pairs of pajama pants, which were plaid blue and black and also from the men's section.
I ended up spending $40 because, to be honest, I got a little over excited with my finds, throwing anything and everything I liked in my cart. I also found a pair of Adidas joggers that looked almost brand new and were black with the white stripes down the sides. They were only $4.99 compared to the usual $40. They are super comfy too, I can wear them to school or even if I am just lounging on the weekends with just a plain black top.
Oversized sweaters are still a trend now, and they are also really nice to wear with jeans or leggings. I suggest looking through the men's section if you want to keep up with that trend. I also suggest getting it a size up by two or three.
I also found a waterproof lightweight coat from the brand Columbia, and that was $9.99, and it is light grayish blue. It is not as warm as I would like it to be, but it is a good jacket to have for when it rains. A lot of people have started getting more into thrift shopping, and it is enjoyable, especially with your friends.
Thick sweaters from Lee Jeans also made it to my final transaction, knit and warm for $3.99 a piece. They range from $30-$40 typically in stores depending on what material it is, so I was definitely willing to buy them because of how cheap they were at Goodwill.
I was able to grab two pairs of shoes, one pair from American Eagle and the other from MIA. The ones from American Eagle were lace up ankle boots with a heel, and the ones from MIA were black slip-ons. I tried both of them on in the store, $5.99 for each pair, which I thought was fair.
The MIA slip-ons got me excited because they looked brand new, and they retail for $29.00. They were a little uncomfortable to wear, which I assumed was because I had to break them in since they looked so new.
The boots from American Eagle, on the other hand, did not work out so well. I tried them on again once I got home, and the heel fell off! I was so disappointed because they looked adorable on me in the store. I even tried super gluing the heel back on, and that did not work. Any suggestions as to what I should do?
Other than that the store is really clean, especially compared to some of the other thrift shops I have been too, and it was overall fun. We both had a good time and came out with some gems! I would recommend going to this Goodwill. I was not disappointed with this trip.