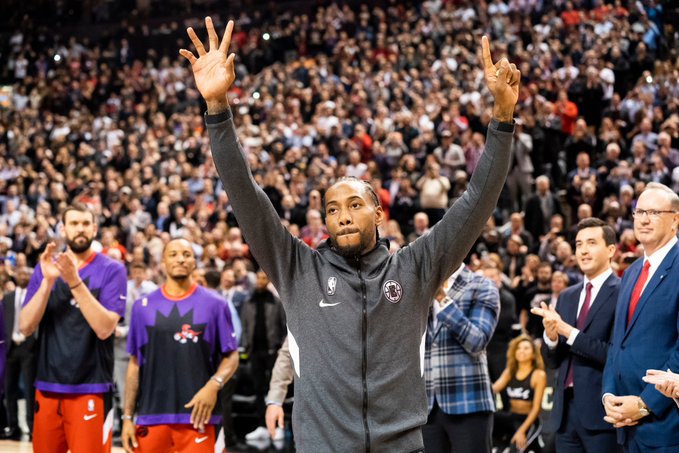 Courtesy of NBA's Twitter
The kickoff to the NBA season is off to a phenomenal start. Fans gather around the country to watch and experience their favorite teams play during the 2019-20 basketball season. This year's season includes improved players and competitive teams play against one another.
As teams work together to secure their spot in this year's final playoffs, rivals and old teammates play against each other to compete for the glory of winning it all. 
Some teams can be placed in the lower rankings due to unfortunate and unlucky events such as injuries, free agencies, and trades. Some players who encountered major injuries include Stephen Curry, Klay Thomson, and D'Angelo Russel of the Golden State Warriors, Kevin Durant of the Brooklyn Nets, and Zion Wiliamson of the New Orleans Pelicans. 
The 2019-20 season for the NBA consisted of many major free agencies such as for the players, Kawhi Leonard, Kyrie Irving, Jimmy Butler, and Tobias Harris. Each signing onto a new team, some teams received either a major advantage or disadvantage.
Trades are a major part of this season's outcomes too. During the off-season, major players such as Russell Westbrook, Paul George, and Kevin Durant have all been moved around in replacements of other exceptional players and first picks in drafts for following seasons.
There are some outstanding players that work well with specific teams that make this season enjoyable for fans to watch. In the Eastern Conference, the Milwaukee Bucks have shown to have a current outstanding record of 20 wins and 3 losses. In the Western Conference, the Los Angeles Lakers have shown to have an empowering record of 19 wins and 3 losses.
Of course, specific players are an important aspect of their team's records. For the Bucks, their starters have each been averaging over 20 points per game and have an exceptional team leader. For the Los Angeles Lakers, they consist of consistent team chemistry and outstanding role models.
This season, league leaders are split between a variety of teams. The top defensive and offensive league leaders are James Harden, Giannis Antetokounmpo, LeBron James, and Luka Doncic. As the season moves on, these All-Stars are in their own competition to be this season's top offensive or defensive player.
"The competition for the MVP award is going to be interesting to watch with the All-Stars' improvement" sophomore Mitchell Flanagan said.
The NBA season of 2019-20 is already off to an amazing start. Highlights and stats will decide the awards for MVP and most improved player of the year and the competition is surely one to watch. This season, we will figure out if this year's roster of talented individuals will either make or break the NBA.