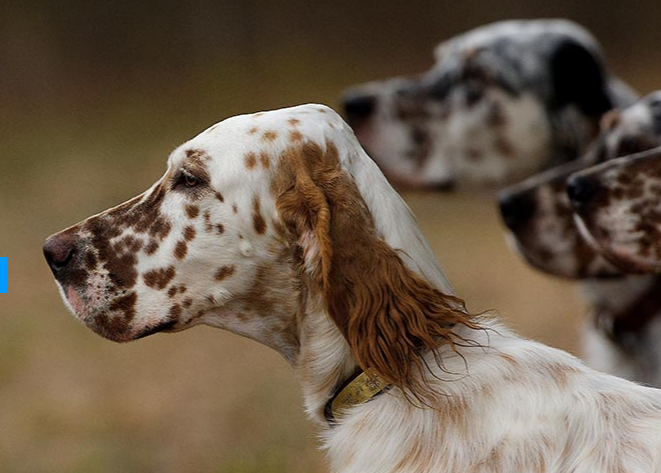 White yet coated in a variety of black, dark brown, or tan spots, the English Setter makes both an excellent hunter and an excellent pet for the family. Over this quarantine, being the dog person I am and being unable to go to the dog park, I had to find some way to get my fill of dogs. While I love Waffles, I felt I needed more. So, I watched the only thing I could think of from the comfort of my couch: "Too Cute."
This show, found on the animal planet network, or in my case Hulu, is narrated by the soothing voice of Henry Strozier. It delves into the lives of three litters of puppies for the first 8 to 12 weeks of their young lives. I watch not only because there are adorable young puppies prancing around the screen, but also because Strozier provides interesting facts on dog breeds that I would not have known otherwise. 
Season four, episode two covers litters of Neo Mastiffs, Chihuahuas, and English Setters. The episode began as any other and the other two litters were shown first, but when the English Setter mother Duchess took the screen, I instantly fell in love. Their coats are unlike any other breed, covered in spots like dalmatians, but more blotches of color. They have long fur, evidently on their legs and tail, yet their bodies appear smooth-coated. This litter of six English Setters had me entranced and I knew that I had to know more. 
While the show informed me that the setter breed is excellent at hunting and that is why the puppies underwent field tests, I took my search to the American Kennel Club. Their full height ranges from 23 to 27 inches, and their weight is between 45 to 80 pounds. Their unique markings have been given the word "belton" and only belong to this dog breed. Because they were initially bred to hunt, this is a very sporty dog, yet it is great for families. They are very easy to train and have an excellent temperament. 
Of course after discovering this amazing breed I had to find Instagram pages dedicated, and there are quite a few. This dog breed is beloved by many for not only is it excellent at what it was bred to do, hunt, but it is a great member of the family. 
English Setters date back to 400 or 500 years ago, being one of the first nine dog breeds registered in America. This breed is important to our development as a country for, without the dog, the man is incomplete. 
I am shocked that I did not know anything about this breed before "Too Cute" showed me the light. And, now, with a full heart and my eyes set on finding an adoptable English Setter, I feel great joy. 
While I would love to go to a litter and adopt from a family like Duchess's, I know that shelters have too many dogs and that puppies from bred litters always get adopted, unlike those dogs in shelters, specifically older dogs. There are far too many adult and senior dogs  in shelters and even though it may be tempting to purchase from a breeder to get one specific breed, it is far more important that every dog has a loving home.