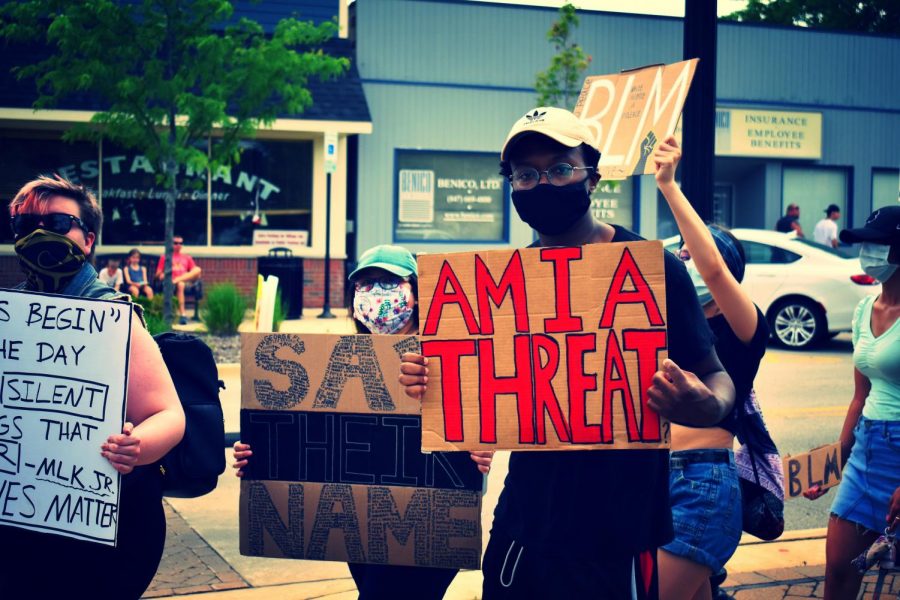 Dozens of protesters set aside posters and lay with their faces pressed into the grass and their hands positioned behind their backs. As the gathered students, parents, teachers, and community members breathed through stifling masks in upper 80-degree heat, they shouted the cry of a revolution reignited by African-American George Floyd's death on May 25.
"I can't breathe," they said.
These were the words uttered by Floyd as Officer Derek Chauvin knelt on his neck for 8 minutes and 46 seconds, the amount of time the protesters lay on the ground. On June 5 from 1:30 to 3:30 p.m. in the Huntley square, the Huntley community came together to peacefully protest against police brutality and systemic racism.
"The point of this protest is to be heard," senior and protester Riley Partin said. "It's to tell people that we will not stand for [racism] anymore because they have been through it enough, centuries of oppression. It is time to stand. Enough is enough."
Senior Riley Murphy and her mom, Kathy, began planning the protest a week before by posting on Facebook and private social media accounts. The main goal was to make it peaceful and safe for the protesters and policemen on duty.
"We didn't want to damage any of the local businesses because with COVID-19, they've already struggled so much," Murphy said. "Our place isn't to smash the windows or cause them harm. It's just to peacefully show our position."
Along with walking the Huntley square, the group gathered in the center for two tributes to Floyd by kneeling and lying in the grass. The Huntley Police Department monitored the protest with officers on every corner.
"Many of us in law enforcement are extremely bothered and shaken by what happened in Minnesota. We are out here just making sure this is a very peaceful demonstration," Chief Robert Porter said. "The Huntley Police Department in absolutely no way condones any type of racism."
Despite looting and rioting occurring during protests in major cities, the Huntley protest was largely peaceful. However, about halfway into it, a man with contradicting beliefs had to be escorted out as the crowd gathered around him.
"[The police] were super respectful, and they took care of an unwanted antagonist, so we were all supportive of that," Murphy said. "We saw that they were having our safety at heart."
Protesters of all ages came to support the Black Lives Matter movement, wearing black shirts and holding signs with the phrases "Say their names," "How many weren't filmed?" and "Silence is violence" written on them. Senior Tommy Taylor held a sign saying "Am I a threat?" in bold red letters.
"The first time I ever got called the N word… was in sixth grade," Taylor said. "[Racism] taught me that I should never be too comfortable no matter where I go, and that's a shame to say but that's just the matter of what my reality is."
This reality is what fueled protesters of all races, ages, and genders to march on Friday. From toddlers in strollers to elderly people holding signs from benches, from African Americans to members of the LGBTQ+ community, and from students to their Huntley High School teachers, everyone showed up to be a part of the movement demanding equality for the black community.
"I have no doubt that we are a small community, but I think we have the same power," senior and protester Elizabeth Sullivan said. "We have a voice, and I do not think we should be afraid to use it."