Prime Time Crime with Sophia: "Casino"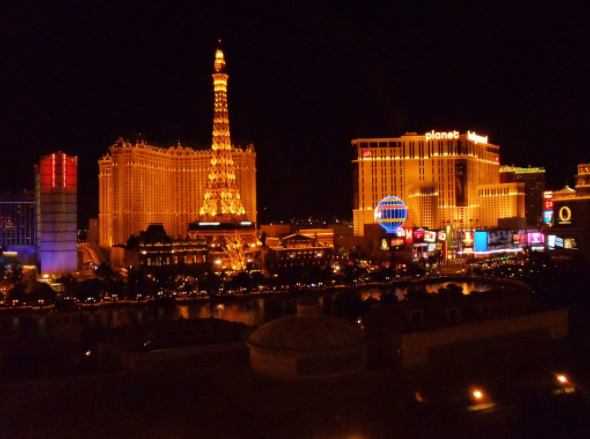 Martin Scorsese's 1995 "Casino" is a glamorous but violent film based on the true story of manager Frank Rosenthal of Vegas' Hacienda, Stardust, and Fremont casinos. One of my favorite aspects of this film is the costumes because each outfit worn is very charming and fitting with the fashion in the 1970s to the 1980s.
Starring in "Casino," is Robert De Niro playing Sam Rothstein, Joe Pesci playing Nicky Santoro, and Sharon Stone playing Ginger McKenna.
The movie follows Rothstein's process of overseeing the Tangiers casino while simultaneously keeping his friend Santoro at bay. The two main characters are very different because Rothstein is only trying to keep a low profile as he keeps the money coming in while Santoro is trying to take Las Vegas for all it has to offer.
Rothstein soon meets a young woman named Ginger Mckenna who is a hustler. Mckenna's main trait is her charm, which is obvious as Rothstein quickly falls in love with her. Despite her confident and oftentimes self-destructive character, McKenna's only flaw is her slimeball boyfriend she keeps running back to.
She is not the only self-destructive character though because Santoro is an absolute madman who similarly is obsessed with his ego and nothing else. Even De Niro's character Rothstein has flaws because he keeps running back to McKenna even though she is not in love with him. He ends up hurting himself over and over due to his feelings for McKenna.
Although De Niro and Pesci's characters in "Casino" are somewhat similar to their characters in the similar movie "Goodfellas," it is important to note how Santoro and Rothstein are lifelong friends, and Santoro will do literally anything to protect his friend's name.
I find it interesting how Santoro seems to represent the gangster lifestyle while Rothstein represents more establishment. This idea is evident in one particular scene where the friends have gotten in each other's way and decide to meet up in a desert. Santoro then chastises and accuses Rothstein of things, but Rothstein comes back reminding his friend how he told him to be careful and to stay out of trouble.
Additionally, as part of the heart of the story, McKenna represents real-life people who return back to their partner no matter how toxic they might be. Her abuse endeavored from her boyfriend parallels her relationship with Rothstein because she projects her anger on him. In her first appearance, McKenna is beautiful and charming, but the watcher later finds out how vulnerable she is just like every other character in the film.
Rothstein is not necessarily portrayed as a bad person, and it is shown as he looks at McKenna and genuinely loves her no matter what she does to him. However, her actions lead to everyone's downfall when she screws everyone over since all she is ever known for is being screwed over.
In my opinion, Scorsese directs the film at an excellent pace as the watcher experiences the full force into the glitz and glamour of the casino. With the voiceovers and music over the top, the film is given the familiar attitude that "Goodfellas" has. Nevertheless, Scorsese sprinkles in motifs and the power-play relationship that every character has.
"Casino" is an absolute must watch because the cinematography is stunning, and there is a beautiful portrayal of how people can act bizarrely when money, power, and status are involved.