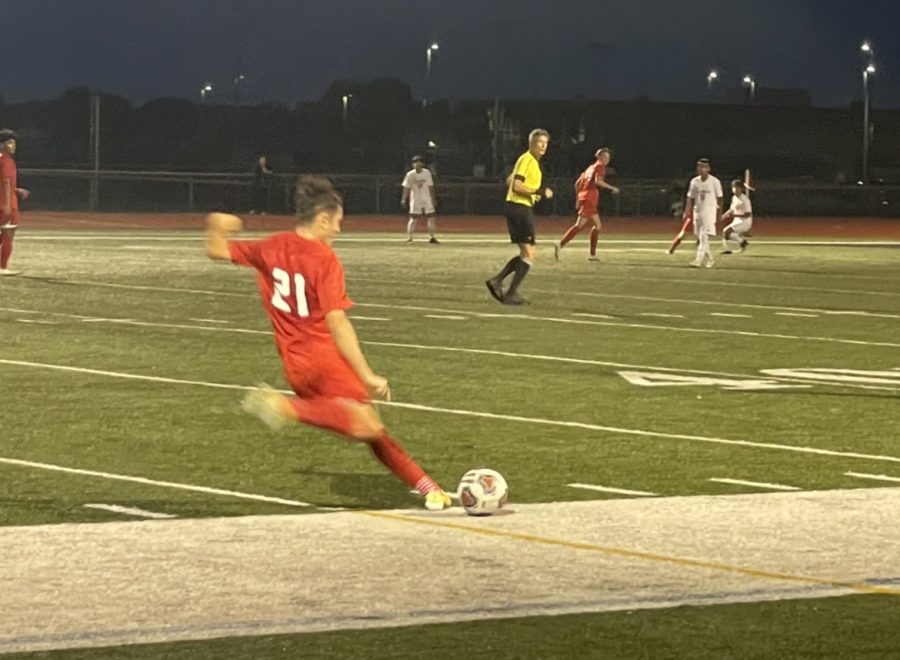 At approximately 6:30 p.m., starters from the Huntley Red Raiders and the Dundee-Crown Chargers' soccer teams lined up across midfield for the National Anthem and starting lineup announcements. For both schools, this was a very important matchup, as both teams were fighting for the Fox Valley Conference title. 
After an intense fight between the two schools, the game ended, and many exhausted athletes said good game to their opponents. When you glanced up at the scoreboard, the score was a 2-2 tie.
A result the team had not encountered until this game, having a record of 14-2 beforehand. The Huntley players felt awkward, as prior to this Thursday matchup, they had won all of their conference games.
As for the coaches, specifically assistant coach Edward Philpot, this draw felt like a loss. 
"If you ask the greatest of greats in any sport, you ask them, do they love winning more or hate losing more? I guarantee you every single one of them will say that they hate losing more,"  Philpot said in a post-game speech, sharing this remark with them because of the losing feeling.
Nonetheless, this game was an intense one. High tensions broke out not only between the players but between the coaches and referees. As senior defender Chance Pickett and senior forward Hayes Porsche put it, this is just a normal Huntley High School soccer game. 
"You show up to our games, we get intense. Varsity soccer, especially when we're up, when we get close to a loss, everybody's going crazy," Pickett, who won player of the game, said. 
"That's every single game," Porsche said. Porsche scored one of the two goals in Thursday night's game. 
Head Coach Matthew Lewandowski agrees with Pickett and Porsche. 
"I don't think that soccer gets enough credit," Lewandowski said. "I don't think enough people come out here to experience those kinds of games. That's literally every conference game. Don't knock it until you try it."
Lewandowski is thankful to be working with athletes like Pickett, Porsche, and the rest of his team. 
"I wouldn't give any of that away for anything else. These guys have become my family," Lewandowski said.
While they may not be placed first in the conference at the moment, they still have one more chance to take that title. Their final conference game is on Tuesday, Oct. 12, at Crystal Lake South High School. It will be a great, must-watch game as a win is required for Huntley to capture their first conference championship in over a decade.