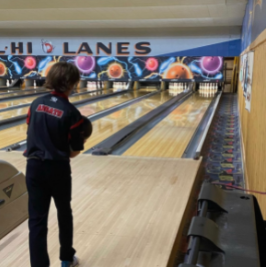 Courtesy of Huntley Athletics on Instagram
If you were to ask random people about their bowling strategies, you would likely get a huge variety of answers. From heavy curves, to straight drives, to even bouncing the ball off of the bumpers as much as possible.
Now, if you were to ask some bowlers about their techniques, specifically the boys bowling team, you would get the same result: a curve to place the ball in between the first and second rows of pins. The bowler decides whether this curve is narrow or wide, quick or slow, but all of these athletes share the same general approach. 
These precise movements and their eminent ability led the team to a 3182-3143 win over Belvidere North on Tuesday, Nov. 9. 
One technique that stood out from all of the others was AJ Debello's one-hand fast hook that transitions into a very wide curve. The satisfying roll reached speeds of over 20 MPH on several occasions, and for Debello, it's more than just speed.
"I like it for more of a mental tempo," said Debello, a four-year bowling team member. "It just keeps me rolling, gives me less time to think, and just go out there and do it."
Bowling is more than strategy, though. The rolling of the ball also involves laser focus. Hayes Porsche, a senior and veteran of the team, exceptionally showed his focus. His 244-pin average led the varsity team on Tuesday. 
What Hayes takes pride in is the volume of not only him, but also his fellow teammates. Celebrating every moment of the game helps shift their mindset from playing individually to playing as a team. 
Head coach Jacob Wagner, who has only coached the varsity team for one full season, has a lot of respect for Hayes, as his leadership on the court in every sport he plays is top-notch.
"Hayes was a big part of the soccer team, and I feel like he's riding his wave into our season, which is wonderful because our guys feed off that and they're an energetic group," Wagner said. "They feed off of each other, but once somebody gets low, they bring each other up, and that's the best part about it."
One tough part about a coach's job is to choose which players will play for varsity. While 10 freshmen tried out, only one of them stood out to Coach Wagner. Soon enough, Austin Tenglin was a varsity bowler. 
When Tenglin heard about his placement on the roster, excitement filled his body, or as he describes it, he was pumped up. 
Tenglin did not disappoint in his exhibition debut. He posted a 209-pin average, enough for second-best on the team. 
Their precise rolls and hard-to-top leadership make them a great competitor in Northern Illinois, explaining why they came out on top over a tough Belvidere North team. Watch out for their upcoming away matchup against Geneva on Nov. 17 and their home matchup against Rockford Auburn on Nov. 23.