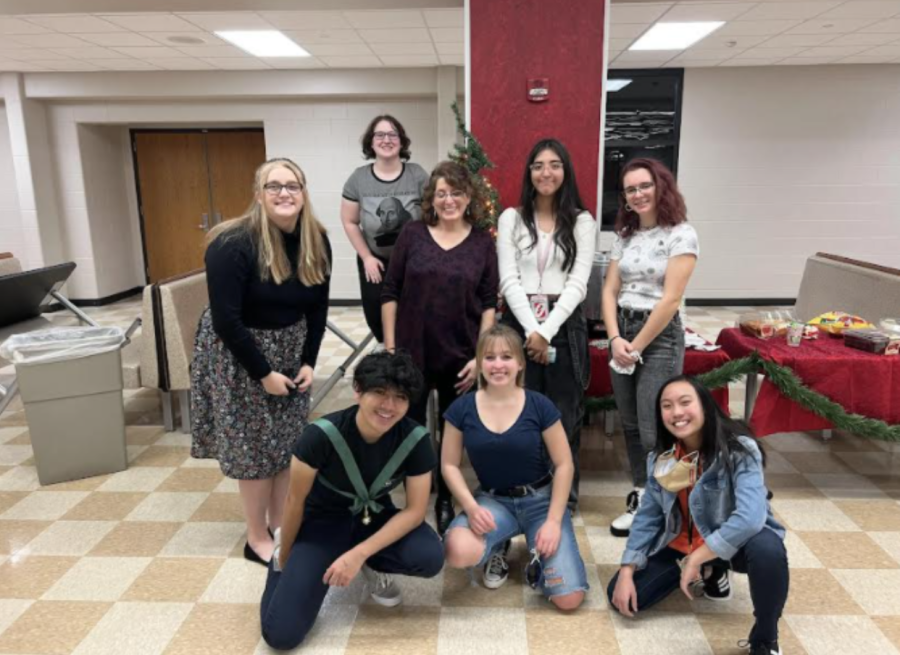 Courtesy of Allison Lewandowski
Festively decorated tables stood in the middle of the cafeteria, while a large crowd stood proudly in front of them. Nobody had their backs turned as the speaker shared their brilliant poem. This is what it felt like on Dec. 8, when the Creative Writing Club hosted an open mic night. The night lasted from 6 p.m. to 7:30 p.m. Both students and parents attended the event, but only the students participated. 
"Creative writing club's main goal is for everyone to be able to share their art with each other, and we wanted to dedicate a time for creating art and gaining confidence," senior Meghan Bentley one of the coordinators of the event. said, As everyone shared their poems or songs, it was clear that they felt confident and safe in the environment that the Creative Writing Club gave to them. The chance to speak to a large group of people while also feeling confident leads to great poems and leads more people to share.
The Creative Writing Club also gave out baked goods, hot cocoa, and coffee during the event. While the event started at 8 p.m., everyone was energetic. The coordinators and staff brought energy to the event. 
"Well, something that I believe in as a writer is the freedom of self-expression," said coordinator Jimmie Soriano. In the event, people shared poems about things that happened in their lives in an environment without judgment. 
"The event is an opportunity to celebrate," Lisa Downing, the advisor of the Creative Writing Club said. The festivities of the open mic made it feel like a safe and fun place. It was a breath of fresh air in the tense atmosphere of the school. It was just a place to celebrate creativity and creative people. 
The Creative Writing Club, even outside of the event, is a very enjoyable place where students are able to express themselves with like-minded people. In a normal meeting, members are given a prompt to write about and given the choice to share. If a member wants to, they can ignore the prompt and write what they personally are working on. Every piece of writing shared is unique and shows the personality of the person who wrote it.