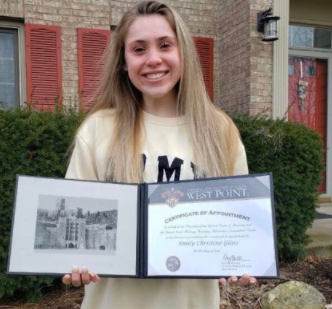 …to get into West Point
It all started when I went to visit my family in Annapolis, Maryland. They live five minutes from the Naval academy. Once I took the tour and stepped on campus I knew this is where I wanted to be and this was my dream. West Point is a military college in New York. The goal is to graduate education, good characters, and to serve in the U.S. military as a U.S. officer. The lessons and experiences are unreal compared to any other experience you will see.
 I was very excited to get it in on time and everything to be professional. I wanted to get into this school and I was willing to do whatever it takes. My parents provided me with financial resources, and emotional support, willing to help out in any way they could.
It is a very competitive and intimidating application process. You have to start somewhere and just get it done, taking responsibility, having organizational skills, and knowing when deadlines are. It helps the process run a little smoother. For the application process, you have to cover these categories: 60% academics, 30% clubs/activities, and 10% physical.
I did a lot of preparation and was involved in a lot. For my SAT, I prepared by having a tutor and doing prep hours. I also did SAT prep over the summer. In school, I was taking rigorous courses and taking a lot of AP and Honors. I was trying to be involved with the community in school as well as out of school. Since freshman year, I have been involved in cross country and track. I am involved in the National Honors Society as President, Link Crew, Student Council, Silver Cord, and doing a lot of service projects for the Legion Hall. 
It was a long journey but I was super excited to have it done. The wait was the most nerve-wracking part because all I wanted to get was the feedback. A few months went by and I was upstairs taking a nap when my parents came in with the mail. They both said, 'Emily, we have something from West Point'. I was so eager I ran downstairs and opened it; I got in. My parents and I were crying so thrilled that my dream came true.
That night we went out to celebrate. We went to Woo Sushi and my parents were calling my relatives that whole night to tell them the news. At this point, I want to major in Nuclear Engineering and once I get my Bachelor's in Science in 5 years, I want to make a career out of it.  I would love to get a high rank in the U.S. government to be a leader in the army. Everyone in West Point graduates with a Bachelors's in Science. I do not know what I want to minor in. 
 I report to West Point on June 26 to start the Cadet Basic Training program for 6 weeks. You learn the army values, traditions, and building bonds with those around you. Even though it will be difficult in the beginning it will be worth it in the end. There were a lot of times where I doubted myself.
I wish I would have been more confident in my abilities, proud of what I have accomplished and not worry about what I didn't. I am not other kids and I wish I didn't compare. I am disappointed due to the Corona virus that I am missing Graduation, and Prom and I wanted to have a few more good times with my class. My dream school is what I was working for, for a long time but, I wouldn't trade it. #BEATNAVY