Why journalism?
why journalism? | join the team | courses offered | awards & honors | scholarships | travel/convention opportunities | meet the advisers
Parents and students: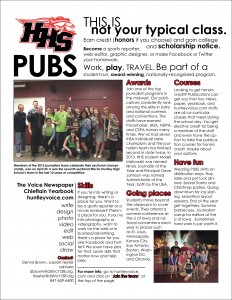 Welcome to the Huntley High School Media Program's "Join the Team" page! Here you will find information on why HHS journalism is one of the best activities you can join.
To start, click on the graphic to the right to see the flier that was given to recruits and students attending the electives fair Jan. 12.  After that, click through the above links for more information.