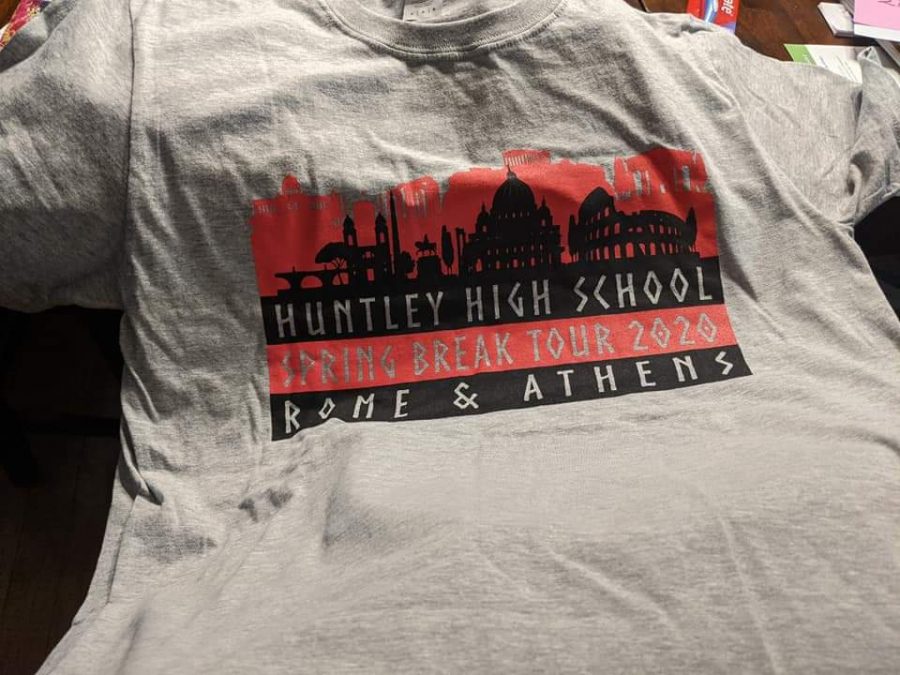 …to have your trip get cancelled
I've always wanted to go to Italy and Greece, as they were on my top list of places to go. I saw that I can go to the Parthenon, the Acropolis, and the Colosseum through the Huntley Travel Club program.
I loved learning about Greek and Roman mythology when I was younger, and those sites have so much history that I'd love to witness. I actually got signed up for this trip because I mentioned it once to my parents and thought it'd be cool, and they said, "Okay, you're going." And that was it.
They had multiple meetings where, first they had said, we will have your kids wearing masks, we'll bring you down, we'll try to stay out of areas that have a high Corona population.
When they started talking about changing the itinerary, they gave us the offer of a travel voucher, because they couldn't give us a refund, because if they gave everyone a refund, then the company would go bankrupt, because everyone was cancelling trips at that point.
[Parents] were told that if they didn't want their kids going because of the risk and everything, they could get a travel voucher, which would be good for any other Educational Tours tours.
And because, at the time, it had only been in Northern Italy, and we were going to Southern Italy and Middle Italy, so we thought 'You know, we'll be fine because it's only in Northern Italy,' but after it spread to the entirety of Italy, we decided to change our plans and we ended up- we were going to London and Greece.
When they changed it to London, I was a little disappointed because I kind of wanted to go to Italy, but London is another place on my "top 10 list of places to go," so I wasn't too upset about it. I was a little bummed out it wasn't happening as soon as possible, but you know, as long as it's still happening, I'm fine.
I talked to my friend Angelina because she's going on the trip. I talked to my main friend group too. It was kind of like: "Ha ha, we're not going to Italy! Ha ha, nevermind!" 
A couple hours before Trump declared Europe a 'No Travel Zone,' Mr. Aney called the company, and said, "Let's just not do it, because it's too risky," and [parents] were offered a travel voucher or to roll the flight over into another trip date,  and a lot of parents got upset over how we weren't given a refund, but we were given a travel voucher which was good for all $4,000 dollars that we paid. So it's all included, but I don't know… people were upset about it and what not. Then, the company ended up offering refunds, and people were happier about it. But now, we're going in August or July or something like that.
Well, right before the trip was cancelled, my grandma had just bought me a super high-tech backpack. An anti-theft backpack that I honestly have no idea what I'm going to do with.
I was at the meeting that was talking about the trip being cancelled. I didn't think it was going to be the end, I knew they were still working on stuff.
The powerpoint presentation was white, I was eating McDonald's, it smelled like the cafeteria… So like, cleaning supplies and food.
 At first I was mad, but then they said it was getting rolled over, and I was like "Cool, let's just roll over."
My friend Angelina was concerned because if the trip rolled over, it could interfere with her summer plans.
I assured her that it would be one week at the end of the summer, which wouldn't interfere too much. She did end up committing to the rolled over trip.
During spring break, I slept and I painted my walls. I didn't have to experience jet lag, and now I get to go to Italy and Greece in the summer, so it's going to be warmer. I felt fine about it happening over the summer, because then it would be warmer out, and I could wear some cute outfits.
I plan to go on the trip in the summer, but if Coronavirus cancels that, I'll be kinda pissed. But it'll just keep rolling over. So if we end up not going this summer, we'll probably go next spring break, if we don't go next spring break… hopefully this is over before next school year, because that's my junior year, I need to take the SAT.