Meet the contestants of Mr. HHS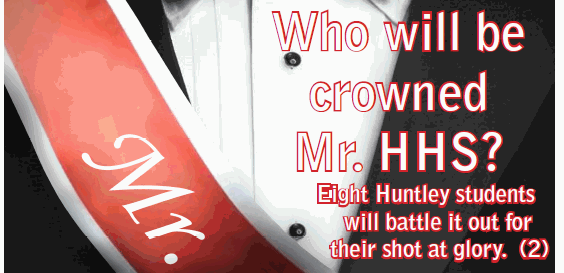 Although there is no high school talent show in the district, we do have our very own school beauty pageant to look forward to. The pageant is finally here, and it will be hosted on Thursday, March 13, in the Performing Arts Center.
Just like any other beauty pageant, the school's pageant will open with a group dancing number and will also be showcasing a wide variety of events including talent, swimsuit, formalwear, HHS spirit, and question portions of the contest. The only difference is that the contestants are all guys. 
It all started about five years ago, after members of the Student Council saw other schools holding their own male pageants. Rebecca Davison, who's had some experience helping out with the Miss Crystal Lake Pageant, is in charge of the contest, along with Student Council advisor Tom Kempf.
Although there are some big prizes that are going to be awarded to the winners, the show is focusing more on the entertainment aspect and just letting the boys have a good time doing it.
"It's more of a fun, relaxed environment," said Davison. "Although I want them to take it seriously and try hard, I also want them to have fun doing it."
When the pageant first came about, there were not that many boys who were willing to try out because they were a little nervous at first. But as the years went on, more and more boys started stepping out of their comfort zones, and they ended up surprising a few people in the process.
"It's kind of cool to see more boys stepping out of their comfort zone," said Davison. "Sometimes they surprise us. You don't realize that someone who is a varsity football player is also an expert piano player."
The contestants for this year's pageant are juniors Spencer Bingham, Matthew Clemetsen, Darek Makowski, and Colin Worden, and seniors Peter Campbell, Mitch Mollica, Mark Skonieczny, and Alex Stevens.
According to Davison, the most anticipated and definitely the most memorable event for the judges and the teachers will be the talent portion. These acts can be a variety of different things from singing, stand-up comedy, to even beat-boxing covers of popular songs.
"I am singing 'Over the Moon' from Rent, which is a very strange piece," said Bingham. "I'll be changing some of the lyrics to make it more Huntley-esque. I have two backup singers, and we do have a cow and a moon that we could also use."
Although the talent portion is the most memorable among the teachers and the judges, the swimsuit portion is by far the most anticipated event among the student body. Knowing that most of the boys will not be comfortable coming out wearing a tiny speedo, they've decided to change it by having the contestants come up with their own creative swimwear.
"I'm just going to go full d-bag for the swimsuit portion," said Clemetsen. "I have snapbacks, Aviators, and a tank top… it's exactly the opposite of who I really am so it should be pretty ironic."
When it comes to the Mr. HHS pageant, it does not matter how attractive you are or how toned your body looks in a tiny swimsuit; what matters is how good of a role model you are to others and how "well-rounded" of a student you are.
"It has nothing to do with what you [look] like," said Davison. "It's about how you represent HHS, [and] the community in general. We're looking for people who are all-around role models."
And sometimes, the most "popular" guy at school does not end up winning at all. There have been boys in the past who were not really as outgoing as some of the other contestants, but ended up winning the contest by catching the judges' attention and having the qualities they were looking for.
According to Davison, the pageant is definitely not a popularity contest. The most well-known person does not always win.
"We've had winners in the past that people didn't really contemplate being a winner, but they ended up being the winner because they showed that 'Hey, I am the best person here for this honor.'"
So what kind of qualities does a contestant need in order to be a model HHS student and a representative for the high school? The contestants themselves all had different views of what the winner should be like.
"A collective identity of the student body," said Clemetsen. "Someone who's intelligent, respectful, someone who cares about the school and about the community and someone who is willing to show everybody who they are."
"If we're in an '80s movie, it should be the quarterback of the varsity football team and the boyfriend of the head cheerleader," said Bingham. "Who helps out and tutors seventh graders from broken homes. But this is the 2014 Mr. HHS, and I think they should be a sarcastic a-hole."
"I think it should be someone who has struggled their entire life," said Worden. "Somebody perhaps from the ghetto, who rose from the bottom to the top. And of course, that's not me because I'm rich, entitled, and white," he adds sarcastically.
Hang on for a minute...we're trying to find some more stories you might like.