Theater kids bring Shakespeare to Huntley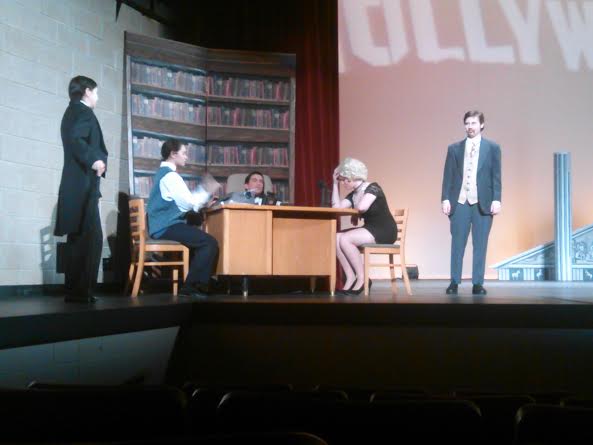 Senior Kaelin Lopriorie grabs sophomore Justin Panacchia by his ears and pulls him in to give him a forceful kiss. She pushes him away again abruptly. Director Steve Sturm calls out for them to rehearse the kiss again. Panacchia sighs and gets back down on one knee. They start the cycle again.
"I felt annoyed," said Panacchia. "because we just couldn't get it right."
All the actors, tech kids, directors, and artists work day after day to complete the play, "Shakespeare in Hollywood."
From stage kissing to stage fighting, all of the actors work hard to accomplish the best performance possible. Many of the actors have been in theater for years.
"Stage kissing has become more normal as I have become more experienced in acting," said Panacchia.
Some of the actors face difficult roles in this play due to gender blind roll casting. Sophomore Sophie Calderone is forced to play an elderly man with an accent, but she is up for the challenge. Sophomore Joshua Szeszol is excited to play a lead role as well.
The theater kids are a very tight knit group, similar to that of a family.
"We are a weird, fun group who make a lot of noise," said Panacchia. "We like to express ourselves,"
"I love this cast to death," said sophomore Leslie Allen, another actor in the play.
The actors are not the only ones working hard. Sophomore Peyton Kerley is working for the first time behind the scenes.
"Techies are the people who work behind the scenes and make sure everything works as smoothly as possible," said Kerley. "We always do our best to make the actors look gorgeous with the proper lighting and make the show visually appealing,"
There are also the directors who helped to write and edit the play. They help to make sure that all the blocking and acting goes well. One of the directors, Steve Sturm, helped to get the rights for the play.
"They're wonderful," said Sturm. "There are moments that are outrageously funny, and some parts that break my heart."
The play itself was fantastic, from its spectacular humor to its heart-wrenching drama and hysterical relationships. The play contained the perfect amount of comedy and drama and the actors did a fantastic job with their characters. Each character was amazing to watch, from the girls playing boys, and well, the boys playing girls.
Therefore, the play was a great success and all the participants did a fantastic job. It was evident that their work paid off well.