NBA Top Ten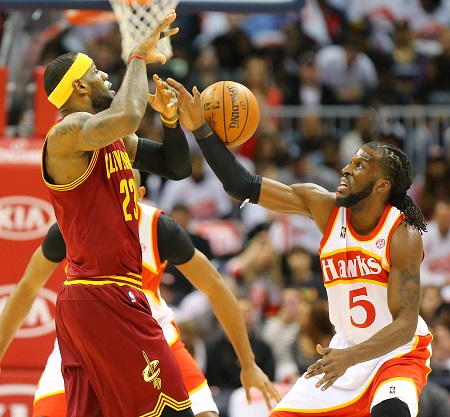 Game 1: Miami Heat @ Washington Wizards Friday, March 6 6 PM CST
Pick: Miami Heat
Why: Washington has been incredibly inconsistent recently and Miami is desperate to stay in the playoff race. Goran Dragic and Dwayne Wade provide the Heat with the wing power to compete with Washington's star duo of John Wall and Bradley Beal. Hassan Whiteside has been a revelation in Miami and is more than either Nene or Marcin Gortat can handle. Luol Deng provides Miami a solid secondary scorer and terrific wing defender. Neither team is particularly deep, so Miami's strong starting 5 should secure them the win.
Game 2: Cleveland Cavaliers @ Atlanta Hawks Friday, March 6 6:30 PM CST
Pick: Cleveland Cavaliers

Why: Cleveland has been terrific since acquiring JR Smith, Timofey Mozgov, and Iman Shumpert. Mozgov provides the Cavs with legitimate rim defense and can help cover Kevin Love. Lebron James is still one of the best two or three players in the league and can handle anyone offensively or defensively. Shumpert provides outstanding perimeter defense while Smith and Kyrie Irving can score at any time. Atlanta is one of the top teams in the league and boasts 4 All-Stars in their starting lineup, but their lack of depth hurts them against Cleveland. Expect a close game that the Cavs pull out.
Game 3: Dallas Mavericks @ Golden State Warriors Friday, March 6 9:30 PM CST
Pick: Golden State Warriors
Why: Golden State boasts one of the top defenses and offenses in the league. Steph Curry and Klay Thompson are as good as any backcourt in the league and can score from anywhere. Harrison Barnes provides solid defense and can space the floor while Draymond Green has proven to be strong at power forward and has the quickness to bother Dirk Nowitzki. Dallas can score as well as anyone with Nowitzki and Monta Ellis but their defense is average at best and they lack the reserves to deal with Golden State's Andre Iguodala and Marreese Speights-led bench.
Game 4: Chicago Bulls @ San Antonio Spurs Sunday, March 8 12 PM CST
Pick: San Antonio Spurs
Why: Chicago has struggled to score since Derrick Rose's injury. Kirk Hinrich and Aaron Brooks lack the ability to play as a lead guard. Joakim Noah and Pau Gasol are solid down low, but Gasol is poor post defender while Noah lacks a polished offensive game. Injuries will likely leave Chicago without Derrick Rose, Jimmy Butler, and Taj Gibson, leaving Nikola Mirotic as the only threat on Chicago's bench. San Antonio hasn't lived up to expectations but everyone on their roster is better than anyone Chicago can put on the court and their bench is much deeper. Expect an easy win for the Spurs.
Game 5: Los Angeles Clippers @ Golden State Warriors Sunday, March 8 2:30 PM CST
Pick: Golden State Warriors
Why: Both of these teams are excellent on both sides of the ball, but Golden State's star power is too much for Los Angeles. Klay Thompson is an excellent perimeter defender and will be trusted to shut down Chris Paul, JJ Reddick, and Jamal Crawford. Steph Curry is a solid defender as well and can score from anywhere. Andrew Bogut is a good center and matches up well with DeAndre Jordan. Although Paul and Jordan are great on both ends of the court, Golden State's superior star power and depth will be too much for Los Angeles to handle.
Game 6: Toronto Raptors @ Oklahoma City Thunder Sunday, March 8 6 PM CST
Pick: Toronto Raptors
Why: Although the Russell Westbrook has been single-handedly making up for Durant's production during his injury, his hot streak will not continue forever, and the Toronto Raptors are one of the best all-around teams in the league. The depth of the Raptors, in the end, should prove too much for the Thunder.
Game 7: Cleveland Cavaliers @ Dallas Mavericks Tuesday, March 10 7:30 PM CST
Pick: Cleveland Cavaliers
Why: Cleveland is making a case as one of the best teams in the Eastern Conference, and LeBron James is making a push into the MVP conversation down the stretch of a long NBA season. Against the aging and banged-up Mavericks, the Cavs are just too good up top and too deep to be beat.
Game 8: Atlanta Hawks @ Denver Nuggets Wednesday, March 11 8 PM CST
Pick: Atlanta Hawks
Why: The Nuggets have not been good this year. After trading Afflalo to the Trail Blazers, the Nuggets gave up on their season and are looking to the future. The Hawks are a team that are winning right now. They have played a great brand of basketball, have great chemistry, and have been lights out from behind the arc this year.
Game 9: Houston Rockets @ Portland Trail Blazers Wednesday, March 11 9:30 PM CST

Pick: Houston Rockets
Why: Patrick Beverley has emerged as one of the league's best perimeter defenders this year. That should come in handy against one of the most prolific scoring guards in the league. Nobody can stop Damian Lillard, but Beverley should help, which, in turn, may hamper Portland's offense.
Game 10: Memphis Grizzlies @ Washington Wizards Thursday, March 12 6 PM CST
Pick: Memphis Grizzlies

Why: The Wizards have been on a downwards skid as of late, and the Grizzlies have been as strong as ever. The elite rebounding and scoring of the Memphis big men should prove too much for this Wizards squad. Mike Conley and John Wall should be an interesting key matchup in this game. Both point guards are athletic, capable scorers who play strong defense.