Book Blog: My Life Next Door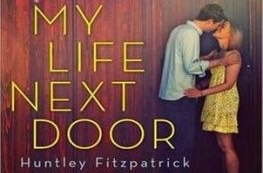 Opposites attract, but what if they aren't as opposite as they seem? Ever since Samantha Reed was little, her parents made it clear: they were not to socialize with their neighbors, the Garrets. But she fits in more than she thought she would with her sloppy, untamed neighbors.
Huntley Fitzpatrick does quite an interesting job describing the ten years Samantha spent watching her neighbors from her roof, finding peace in the simple hobby. Then everything changes when Jase Garret suddenly invites himself up on her roof.
That night changes both their lives.
Fitzpatrick makes the reader feel the thrill, the fear, and the guilt of Samantha, the daughter of Senator Reed. It gives the reader a feel of rebellious thrill that's surprisingly addictive.
What draws many people in is the dangerous feel of it all. Samantha did whatever her mother said, and then suddenly she's sneaking around behind her back, doing everything she once told her not to do.
It presents a heartwarming family in two different ways, someone who loves what they have and accepts it, and someone who thrives in what they were given. But either way, they begin to merge.
The story holds a sweet, romantic feel with a surprising plot twist that eventually lulls their story into a simple, comfortable ending. And really, how else should a story end?
I, on the other hand, hoped for a more romantic ending than what really went down, but that is just me and my romanticly fogged mind.
So that means you have to read it yourself, go through that journey yourself.
Hang on for a minute...we're trying to find some more stories you might like.