The East Gym was full of energy Tuesday evening as the 15-5 Red Raiders volleyball team took on the 8-16 Hampshire Whippurs in a Fox Valley Conference crossover.
The last time these two teams met up, the Red Raiders prevailed, winning 25-17 and 25-9. This match up was no different, with Huntley defeating Hampshire in two sets, 25-13 and 25-16.
This FVC crossover happened to be a "Faculty Appreciation" game, where Huntley teachers and administration had the chance to warm up with the players. The gym was also decorated with balloons and posters, thanking the administration for all of their hard work and support throughout the season.
The Raiders were led by Division I bound senior Alyson Dion, who leads the conference in hitting percentage with 26.7 percent. Dion has an impressive 132 kills on the season, with a career total of 759.  
Because the Raiders had previously defeated Hampshire without a problem, they had a different strategy going into the game.
"We wanted to work on our fast offense tonight and run some different sets we've been working on," coach Karen Naymola said. "We're seeing these teams for a second time so they're keying in on our offense and we're trying to mix it up and prepare for regionals."
Part of this successful offense was the service game. The Red Raiders changed up their serving pattern, executing both short and long, hard serves. This threw off the Whippurs and left them scrambling out of formation, struggling to get the ball over the net.
These consecutive errors gave the Raiders a comfortable 7-1 lead in the second set, forcing Hampshire to call their first time out.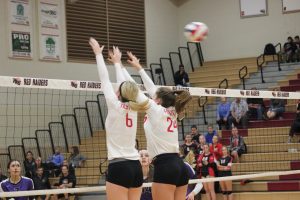 "I told [the girls] that we have to [continue being] disciplined on defense," Naymola said.  "We play great scrappy defense but we make it harder on ourselves than it needs to be if we would just get out to our lines."
Disciplined on defense they were, giving up no points after the timeout, earning themselves an 11-1 lead.
"Having the lead built a sense of confidence," sophomore libero Sarah Zayas said.  "The momentum was on our side and we used it to win."
However, a few Red Raider errors and missed blocks caused the Whippurs to earn a few points later in the set.
After a quick hour long game, the final "Hey Hey Huntley" cheer was shouted and the Raiders had secured their 11th conference win.
The Raiders' next game is Thursday at McHenry and their regional run begins Nov. 1.
"Our team is working hard every day in practice, as well as preparing ourselves mentally to face the teams in regionals," Zayas said.