Starbucks vs. Daily Projects: Battle of the Joe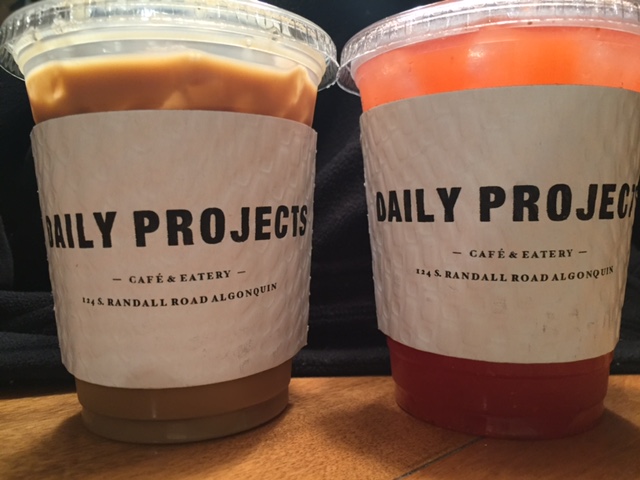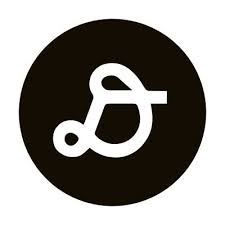 Alex: Team Daily Projects
Ever since their June 2016 opening, Algonquin's Daily Projects Coffee Bar has been the underdog.  With the multi-billion dollar companies of Starbucks and Dunkin' Donuts within miles, the single franchise had their fair share of competition.
Emma and I decided to ditch the fro-yo and find out if our usual go-tos were old news.  After trying a Strawberry Lemonade from Daily Projects and a Passion Tango Ice Tea Lemonade from Starbucks, I decided that Daily Projects gives Starbucks a run for their money.  The Strawberry Lemonade was sweet, refreshing, and left me wanting more.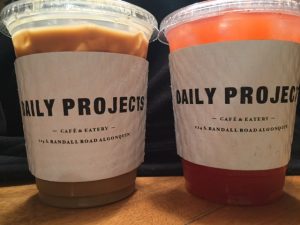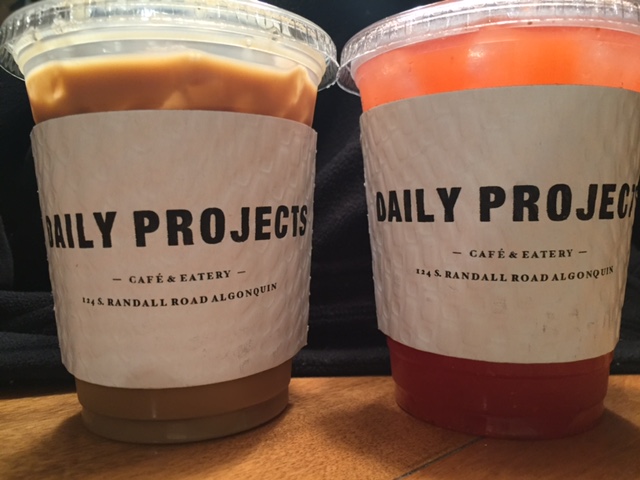 Daily Projects, located on Randall Road, offers not only coffee, teas, and sandwiches, but also activities.  On Monday nights, they offer a one hour yoga session with tea tasting afterwards.  They also host essential oil classes and DIY project nights.
Like Starbucks, this coffee bar offers a variety of drinks.  The choices include: cold brews, teas, chais, pourovers, and espressos.
While there are little to no seasonal drinks offered, I prefer it that way because to me, consistency is key.
Because it is new and is still trying to reel in customers, Daily Projects is a little bit more expensive than Starbucks.  They offer two sizes, a 16 and 20 ounce cup.  The prices range from $4.25 for teas and cold brews and $3.50 for lemonades.  Like I said before, we are talking about broke high schoolers as the target market.
Another downfall to Daily Projects is its lack of a drive-through.  Starbucks is more convenient because of its multiple locations throughout the area as well as its options to order online and even the drive-through.  Though, Daily Projects had faster customer service and I got two drinks in less than a minute's wait.
However, we cannot blame Daily Projects because they are just getting on their feet.  Who knows?  Maybe they will get all of these amenities before too long.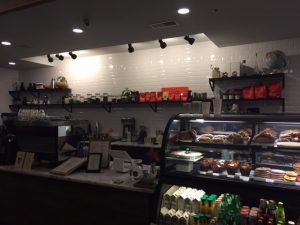 The environments are the same, with both places being your typical coffee shop.  Daily Projects got its name because they wanted to create a space where customers could go and work on their "daily projects."  Their shop has a white and black color palette and I would say it is more modern.
So next time you decide to go out for a refreshing drink, cold brew, tea, coffee, or even sweet treat, I highly recommend you give Daily Projects a try.  The environment, choices, and customer service will not disappoint.  Or, if you are looking for fun activities to do throughout the week, stop by Daily Projects for their yoga nights or oil essentials.  There is no better way to relax than some yoga and a big 'ol cup-o-joe.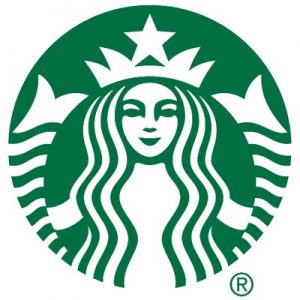 Emma: Team Starbucks
This week Alex and I are trying to find the best place for coffee. We went to Daily Project, which is located off of Randall Rd. and Starbucks.
At both coffee bars I had a vanilla cold brew coffee. Both cups were refreshing and delicious, but Starbucks has my vote. Although both places offer an eco friendly, modern, comforting atmosphere, to me, Starbucks is a classic.
The cold brew at Starbucks has good light flavor, the cup from Daily Projects was rich and sat in my stomach for a long time. If you are a die hard coffee lover who wants fresh roasted real bean, I recommend Daily Projects.
If you are like me and want many options and price ranges, Starbucks is your place.  At Starbucks the drink prices range from $1.50 to $5.50, and the options extensive. Unlike at Daily Projects, you can chose from a long list of teas and frappuccinos at Starbucks.
Starbucks originally introduced variety in coffee and made it more accessible to the masses.
There is a Starbucks on the way to school, and despite the massive line of cars filled with sleep devised and thirsty high schoolers, the simple coffee shop manages to get through all of them with little hesitation.
Although the lines at Starbucks get long, I have never had a negative experience, and trust me I have been there a lot. The baristas always treat me kindly and the environment has a very "at home" feel.
Also, unlike Daily Projects, most Starbucks offer an efficient drive through option, that allows all customers the opportunity to get there coffee, tea or frappe without having to leave the comfort of their car seats.
Both Starbucks and Daily projects offer bakery items like coffee cake, muffins and cookies, but Starbucks has sandwiches and lunch box items. At starbucks for lunch, you can get a snack ranging from popcorn or chips, to an organic peanut butter and jelly sandwich or a small box sampling different cheese.
Turns out good coffee is right in our town, it is just a matter of finding what you like and picking a coffee bar that fits your coffee needs. Again if you like efficiency, variety, reasonable, and price ranges, I recommend getting your next cup at Starbucks.