Countless players, countless coaches, and countless hours of work put in with countless amounts of blood, sweat, and tears was what led Huntley to such a successful season.  
Countless touchdowns, countless yards rushed, countless passes thrown, and countless memories made on and off the field was what came out of all that hard work put in.
Yet, this Red Raider football team could not have been nearly as successful if it wasn't for all of the heart, support, and cheers heard from the home stands.
Throughout the season, the stands inside of the Huntley High School Stadium were filled with hundreds of students, teachers, Huntley residents, opposing fans, and superfans alike as the Red Raiders went 8-3 during their first season since 2011 without former head coach John Hart.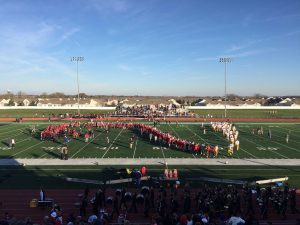 Matt Zimolzak, Huntley's new head coach this season, led his team to the quarter finals of the IHSA Playoffs, beating Stevenson in the first round 21-20 and Fremd 38-30 in the second round. The win against Fremd being a huge one for Zimolzak, who teaches at Fremd.
With victories come challenges, meaning that Huntley was eventually bound to face a high ranked team this postseason. Loyola Academy being that team.
The two teams faced off on Saturday November 12, a windy afternoon with a solid matchup of two talented teams with a kickoff at 1 p.m.
Loyola being ranked number one in the state and 46 nationally, Huntley went into the game preparing mentally and physically just as they would for any other game.
With an unfavorable outcome for Huntley, losing 24-0 to Loyola and being eliminated from the postseason this year, the Red Raiders heads still hung high as the defense held Loyola to very minimal points compared to projected numbers.
"It means a lot to have gotten this far in the post season, we got one step further than last year so it gives you hope that next year we can make it another step further," said junior defensive lineman Donovan Spann.
Huntley started their 2016 season off with a huge win against rival Jacobs, winning the game 35-0. Scoring more than 30 points in all of the regular season wins, proved both the offense and defense to be solid pieces to a team full of talent.
"These guys have gotten so much better since day one, they got beat by a really, really good team," said Huntley's offensive coordinator Mike Slattery. "I'm not disappointed by anything, I thought our team gave everything they had and went out there and competed."
Despite not having an undefeated record like last year's impressive 10-0 record in the regular season, the Red Raiders still put up high numbers across the board this season. This year, a bumpy middle of the season for the Raiders, losing three games to Prairie Ridge, Cary-Grove, and West Aurora, pushed the boys to work harder, and win harder than ever.
"We were expected to lose in the first round against Stevenson, and then people still thought we were going to lose against Fremd and we beat Fremd," defensive lineman and Division 1 commit Lere Oladipo said. "We just played the number one team in the state and we showed up and proved we can hold up against really good teams. I'm just really proud of everyone."
Football has been the ultimate American game, for what feels like forever. Yet, most people know and believe that education, family, and health come before sports first and foremost. All sports are a learning, growing, and maturing experience. That mindset is no different for Huntley's coaching staff as they teach their players important life lessons aside from the game of football.
"As a coach you want kids to grow and mature, that's why we play sports," said Slattery. "It shows our kids that if they do the right things and believe in themselves, good things happen. Even if you do good things you still lose sometimes, but that's why you compete, to learn things in life. It wasn't one kid [that led this season], it everyone had a part in it."
As another great season of football comes to an end for Huntley, the team looks ahead to next season and what could possibly be another step closer to a state championship for a well deserving team and town of Huntley, Illinois.