Huntley girls tennis silence the Thunderbirds as they conclude regular season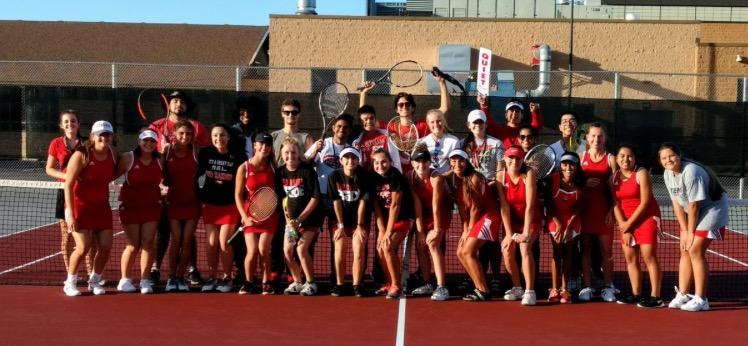 The bleachers were full on Wednesday afternoon as Raider Nation leaders held up the "Quiet, please" sign, whispering chants and respectfully clapping as the 25-5 Red Raider girls varsity tennis team silenced the Woodstock North Thunderbirds with a score of 6-1 in the last match of the regular season.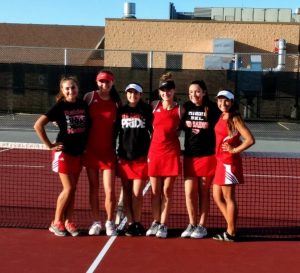 Seeing as this was the final home match of the season, the Raiders celebrated the six soon-to-be graduates: Lauren Eliscu, Alex Landman, Kayley Roche, Allison Simons, and Merritt Whiteside.
The Thunderbirds, who are members of the Kishwaukee River Conference, received their only win from senior Aly Cullotta, who defeated Huntley junior Samia Desai 6-1, 6-0 at first singles.
The Raiders swept Woodstock in their doubles matches, receiving wins from first doubles team of Landman and Roche (6-0, 6-0), second doubles team of Simons and Whiteside (6-1, 6-1), third doubles team of juniors Riley Conradt and Maddy Domek (6-1, 6-1), and fourth doubles team of junior Gabbi Barnvos and Eliscu (6-1, 6-3).
Also adding wins for the Raiders were junior Carina Bowman (6-0, 6-1) and freshman Michelle Barnvos (6-2, 6-0) at second and third singles, respectively.
"It was bittersweet knowing this was our last home match," Roche said.  "But I'm confident that our season isn't over yet."
With conference coming up on Friday Oct. 6 and Saturday Oct. 7, head coach Barry Wells gave the girls specific strategies to work on to prepare for the difficult conference matches they will face.
"Going into the match, I knew we were the stronger team," Wells said.  "I told the girls to be aggressive because that is more realistic of what they're going to face in conference."
Woodstock North's team strategy was to hit the ball hard and deep, but the Raiders were able to combat that, forcing deep lobs to the backhand, causing their opponents to have to run back to the fence to try and return the ball.  Nevertheless, the Raiders were successful.
"It was senior night, Raider Nation was there, and we just played like we have been all season," Roche said.  "We couldn't have ended on a better note."
Huntley finished in third place in the Fox Valley Conference this year, marking the program's highest team finish in history.  The team also made history by beating the Jacobs Golden Eagles earlier in the season, who they now pose a 1-31 record against.
"Getting the wins over Jacobs and Prairie Ridge  were super exciting and the whole team pulled together to make it happen," Roche said.  "This year's team was so great all around."
The season is far from over, however, with the Raiders looking to send six players to the IHSA State Finals tournament on Oct. 19-21.  The team sent their first doubles duo last year, but according to Wells, everyone has a good chance to qualify.
"It's really exciting," Roche said.  "We just have to keep our heads clear, focus on the court, and if we play like we have been all season, we have really good chances."
The Raiders will take on the eight other teams of the Fox Valley Conference in the tournament Friday Oct. 6 and Saturday Oct. 7.