Cave Sesh Ep. 1 featuring Faith Losbanes and Sophie Gire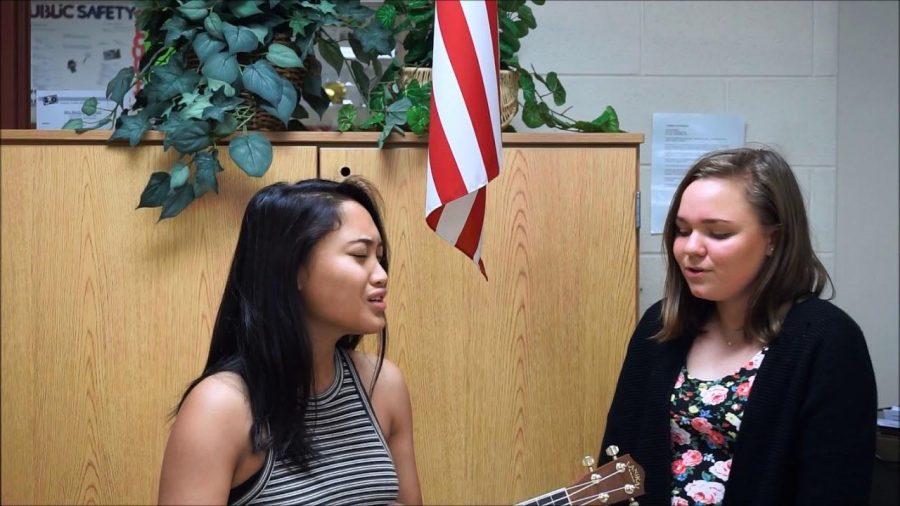 Often times, Emma and I spend more time in the cave than we do at our own houses.  The cave is a place where The Voice staff design pages, brainstorm editorial topics, collaborate, make advertising sales calls, hurriedly print drafts, and, my personal favorite,  eat enormous amounts of taco dip.  The original Cave Sesh happened one day during class, while two students took on Chance the Rapper's "No Problem."  It was for the best we didn't document that one and I'll leave it up to your imagination to infer what it sounded like.  Emma and I wanted to feature artists and singers around our school and bring them, well, to our home away from home to showcase their talent.  So, from the deepest darkest room of Huntley High School, we want to welcome you!
Cave Sesh Ep. 1 features Faith Losbanes and Sophie Gire, two juniors on staff.  We wanted to showcase talent we hear on a daily basis with the two of them always humming along to catchy tunes, but rest assured, we will cover everyone.  Sophie began by singing "Creep" by Radiohead and was then joined by Faith on the ukulele, where the duo performed "Riptide" by Vance Joy.  Emma and I agree in that their voices livened up the cave and I've only ever heard that much applause when one of the editors last year walked in with a pizza.  If you want to check out more of Sophie's talent, please subscribe to her YouTube channel, "sophie gire."
All filming and editing was done by sophomore River Lee, who all though he isn't afraid to ham it up in front of the camera, insists he does his best work behind the scenes.
From Emma and myself, thank you for tuning into the first episode of Cave Sesh and check back throughout the year as we will have many more talented artists and singers!  Without further ado, from our house to yours, we bring you….
Faith Losbanes and Sophie Gire!