Random Q/A with Kevin Andren
Q: If you could have dinner with one dead person, who would it be? Why?
A: If I could have dinner with one dead person it'd probably be Ghandi, because then I'd know there would be more food for me.
Q: What was your favorite toy growing up?
A: It was one of those toys where you'd have to build a structure out of plastic tubes and then a marble would run all the way down it. My buddy had the really cool one that worked on its own. I [used the toy] in kindergarten to around second grade.
Q: Name a couple of your favorite movies.
A: I like "Scary Movie 2." The second one is the best out of the five movies that were made. I like it because it's essentially a bunch of slapstick comedy just thrown together to make a movie. There is an overarching storyline but not enough to get in the way of the comedy. My other one is the movie called "Stuck in Love." It's about three perspectives of this family. One is about a kid who is falling in love for the first time, another is about his sister who had her heart broken and has given up on guys, and the third is the father who is reconnecting with the mother.
Q: Would you rather time travel to the past or the future? Why?
A: Definitely the past, somewhere around year 300. I'm very Catholic, and there were a lot of really great thinkers at the time. When you look at philosophy throughout the ages the amount of thought that went into philosophy was insane, and as of now, we're more getting into the nitty gritty stuff.
Q: What's your favorite childhood memory?
A: My uncle had this giant hill in his backyard that led into a forest and we would slide down it in the winter. One summer we were having a fire in their backyard, and I decided it would be a good idea to take their radio flyer that had wheels and go to the top of the hill and sled down it. They had a little divot before their patio area and so when I went through the divot I ended up flinging myself over the fire pit and almost broke through their back door. My parents caught me midair, it was crazy.
Q: What is the last book you read for pleasure? Explain the plot, and whether or not you liked it.
A: I mentioned I'm highly Catholic. The last book I read for pleasure was "True Devotion to Mary." Saint Louis De Montfort wrote it in 1700 or 1800. It's just all about why we should devote ourselves to Mary.
Q: Is there an app that you hate, but use anyway?
A: Snapchat, without a doubt. It's so dumb with all the filters and the drama that it creates.
Q: What is your dream vacation? What would you do, where would you go, who with?
A: My buddy owns some property up in Michigan, and it'd be nice to go up with him and a couple of other friends, and do a hunting weekend where we cook what we kill and live off the land.
Q: When you were younger, what did you want to be when you grew up?
A: My first dream job was to be a McDonald's fast food worker so that I could steal chicken nuggets.
Q: Are you a leader or a follower? How do you know?
A: It depends on the situation for me, but I'm a leader more often than not. I feel that way because I always see people asking for my opinion on things and asking for help when they need it. But then again, I don't know a lot, so I'll go around asking other people for help. It all depends on the situation I'm in.
Hang on for a minute...we're trying to find some more stories you might like.
About the staffer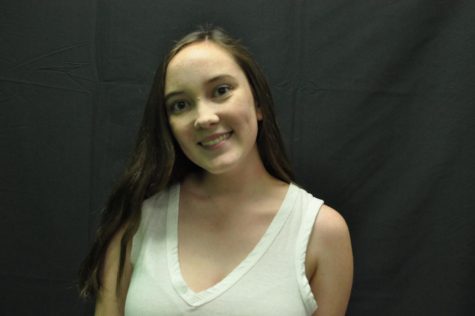 Skylar Sharkey, floating editor
Skylar Sharkey is a floating editor and this is her third year on The Voice. She was named after a character in the movie "Good Will Hunting." In her free time she enjoys reading, writing, and traveling.