Huntley Falls Short at Home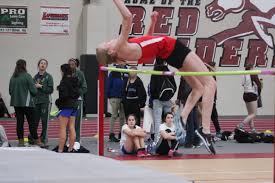 The Huntley girls track team held their first home invite of the season last Saturday and it was an exciting one for all teams. However,the Belvidere North Blue Thunder got the win huge performances from their distance team.
The Blue Thunder got nice contributions from their athletes in both sprinting and various other field events, but were most notably led by their efforts in the distance events. The Blue Thunder had at top five finish in the mile, and took home first in the 2-mile,4×800 relay, and 800 meter run.
But, despite the dominant performance from Belvidere North, who won by 43.5 points, Huntley was still able to get second at their own invite. With a win in the 4×200 relay and top two finishes in both the 4×800 relay, and an individual top two finish by Mary Raclawski in the 800 meter run. "We are working really hard in practice and making great progress, it was our second meet and we got second" Raclawski said. " Our team did really awesome."
Other notable individual performance from Huntley included Sabrina Krog's second place finish in the 200 meter, Mckenzie Krich's third place finish in the high jump and a second place finish in the 4×400 and fourth and fifth place finishes in the shot put by Cameryn Piskule and Olivia Fondjo.
Other notable performances included an impressive win by Grayslake Central freshman Julia Reglewski, who threw 38 feet 2 inches, beating the rest of the field by almost 3 feet. The 60 meter dash was also very close, separated by just .1 seconds,  Belvidere North's Grace Bundusch edged out Mchenry's Jenna Pauly.
It was an okay meet for Huntley but they know they can do better "We just gotta keep pushing and practicing the best we can and hopefully continue to move forward from here" Fondjo said.
The Red Raiders hope to capture the Fox Valley Conference title for the indoor season on March 6.