"The Last Black Unicorn" will make you laugh out loud
There are only a few books that I have read in my life time that I have truly been obsessed with. Most bookworms can relate to this scene: you find a great book and start reading it and instead of putting it down and taking a break… you don't. Instead you stay up in your room all day wrapped in about three blankets and keep reading until you finish it because, yes, it's just that good.
This is exactly the type of book "The Last Black Unicorn" is. From hilarious encounters of Tiffany Haddish's previous jobs to heartbreaking encounters of what her life in South Central Los Angeles was like, Haddish paints a great picture of what overcoming adversity is truly like.
Haddish is most widely known for her raunchy and brutally honesty sense of humor, whether that be in movies or in stand-up acts. Her most famous roles have been in "Night School" with Kevin Hart, "Girls Trip" with Queen Latifah, Kate Walsh and others, and soon "Nobody's Fool" with Paul Newman and Melanie Griffith.
However, Haddish did not get these roles easily. As described in the book, she had to really work her way up on the social ladder of fame in order to earn her place and she's still working for it.
The book first starts out with Haddish illustrating what her childhood was like growing up. She explains why school was hard for her being that she didn't learn how to read until the ninth grade and kids constantly made fun of her due to her mom.
But this didn't stop her from becoming the person she is. She eventually learned how to read and she grew to love high school because she found who she was: the funny girl. All throughout the book you can see that her life revolved around making people laugh. In fact, Haddish explains that this was how she made most of her friends.
One thing that I noticed in the book was that early on in Haddish's life boys and men became a thing of importance and something that set you apart in a crowd. From high school on, Haddish was always in a relationship or wanting to be in a relationship with a guy. Generally these relationship did not turn out very well because the boys she went after were not nice guys.
Yet I did think it was interesting how she grew up with this precedent of needing to find a man that is still around today. It shaped her to be the person she is, but I wonder how she would've turned out without all of her past relationships.
Overall, Haddish did a wonderful job setting up the story of her life (I mean, it's her life, so who am I to judge?) but there were some parts in the book that I thought weren't really needed.
Multiple times Haddish depicts, in detail, certain points of intimacy. Although I'm sure these were notable moments for her, I really didn't need to read about them. The book would've been far better off just skimming over those parts and focusing more on the challenges she had to face.
If you're looking for a book that will make you laugh out loud and learn to appreciate all of the things that have happened in your life, for better or for worse, then I would highly suggest picking up a copy of "The Last Black Unicorn." You won't be able to put it down.
Hang on for a minute...we're trying to find some more stories you might like.
About the staffer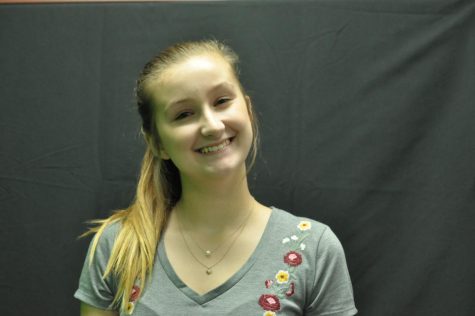 Riley Murphy, editor-in-chief
Riley Murphy is the co-editor-in-chief and this is her third year on staff. She enjoys taking walks with her two dogs (Max and Ruby) and staying active outdoors. Some of her favorite shows include "Friends," "The Office," and "The Act." If she's not watching her favorite shows, she's most likely curled up with a good mystery novel.