"Serenity" Proves to be a Thriller
The new "Serenity" movie has hit the ground running, this suspenseful film to leave viewers on their toes and the ratings are not doing that well. Director Steven King has tried his best to make this film from the scene settings all the way down to the cast members. Stars and big names in Hollywood are featured in the film as well.
Any time a film has Matthew McConaughey and Anne Hathaway it is basically a guaranteed excitement. Well not with this film, according to Rotten Tomatoes review the new "Serenity" movie is, "A high-concept mystery with a twist, Serenity isn't what it appears to be at first — unfortunately, it's also not anywhere near as clever or entertaining as it thinks."
Audiences and critics seem to think this film is not what anyone was looking for the average ratings for the film is 4/10, this is certainly not what King was expecting with a budget of 25 million us dollars there was definitely more that could have been done to make this film "enjoyable".
There was a very high level of expectation set that was not really achieved. The storyline of this film is seemingly interesting Anne Hathaway play Karen, the ex-wife of Baker Dill (Matthew McConaughey).
Karen finds herself in a horrible situation with her new husband, he is abusive to her and Bakers young son. Karen finds herself seeking help from her ex-husband Baker who is a fishing boat captain. The plot twist comes into play when Karen asks Baker to take her husband on a fishing trip and throw him overboard to the sharks.
Baker finds himself in a life-altering position where he does not know what is right or wrong. Throughout the entire film, we are shown how Baker Dill is challenged with difficult discussions and he does not really know what road to take.
When he has to question saving his family or saving his morals…Does he protect the mother of his child and his child? Or Does he leave that life behind him and let them figure it out? Be sure to check out the movie in theaters everywhere.  Have an empty mind and a non-biased perspective if you haven't seen it already.
Although many of the viewers did not enjoy this film, it was a joy for McConaughey and Hathaway to work alongside each other as well as with director Steven Knight.
Hang on for a minute...we're trying to find some more stories you might like.
About the staffer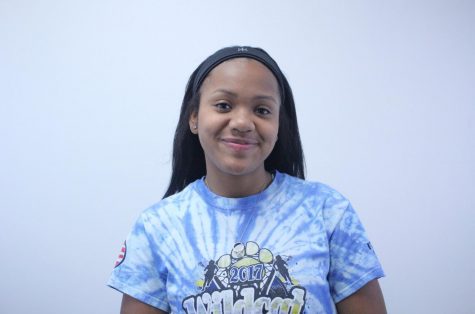 Riyana Walker, staff writer
Riyana Walker is a staff writer of the Voice; this is her second year on staff. In her free time she likes to hang out with friends and play basketball with her team as well as workout with her dad. She enjoys watching women's basketball, and likes to shop and travel. She has no pets at the moment and loves her family.