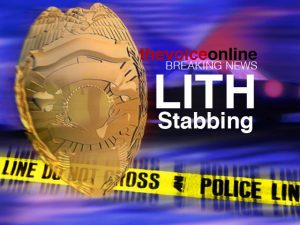 This is an ongoing story and details may be changing rapidly.
At approximately 12:30 p.m. on Friday, an unidentified Lake in the Hills male was stabbed outside of a home on the 2800 block of Melbourne Lane. Lake in the Hills Police responded to the call of an apparent knife wound to the neck.
According to witnesses, the male was stabbed in the driveway and an ambulance took him to Sunset Park where a Flight for Life helicopter was waiting to transport him to the hospital. It is unclear if he was transported by Flight for Life or ambulance.
His condition is unknown at this time.
"I saw a big pool of blood on the driveway next to a cell phone," said sophomore Taylor Stone who lives nearby.
According to other people at the scene police stay there for a few hours reassuring the neighbors.
Daniel V. DeFrancisco of Lake in the Hills has been charged with aggravated domestic battery, aggravated battery and domestic battery. He is awaiting a bond hearing at McHenry County Jail. DeFrancisco was charged with domestic violence on October 11, 2010 according to police blotters.
DeFrancisco lives at the house but it is unknown what is relation is to the victim.
According to public record the owner of the house is Michael Condon, but the identity of the victim still hasn't been announced. Condon is active in the Blackhawks Council according to the Boy Scouts of America's website. Neighbors describe him as very active in the community and not having problems with anyone.
Reporting by: Michael Geheren, Digital Editor in Chief, Marek Makowski, Sports Editor and Brendon Urban, News Editor. Support provided by: Randi Peterson, Managing Editor, Tommy Heagney, Staff Writer and Seth Boster, Former Sports Editor.