"A Monster Calls" will have you reaching for the tissues
There are few books in this world that have caused me to cry. And I'm not talking about a perfect movie scene cry, but instead, a can't-breathe-listening-to-Celine-Dion-eating-raw-cookie-dough kind of cry. Similar to that of Valentine's Day… which is honestly why I chose this particular book for this month.
"A Monster Calls" written by Patrick Ness, and illustrated by Jim Kay, is one of those books where I had to crack open a bucket of raw cookie dough just to get through it. Not only is the story so special in itself, but the illustrations evoke so much emotion as well.
Now when looking at Patrick Ness's work, you can see that he has never before done a book paired with illustrations. While Ness's writing is good, I feel like the illustrations really added a different side to the story due to the incorporation of another art form.
And Kay's work is truly one of a kind. Besides his work in "A Monster Calls," he also is the illustrator for all three illustrated versions of the Harry Potter series.
Being a huge Harry Potter fan myself, I can say that Kay's art is true perfection in all four books he has illustrated. In the Harry Potter illustrated trilogy, he incorporates so much colorful, mystical whimsy that it makes the characters and creatures come to life.
You can see that he incorporated more of that fantasy in "A Monster Calls," however it's all monotone sketches and drawings. Paired with a more serious plot, it becomes a hard book to put down and an even harder book to get through.
"A Monster Calls" highlights the story of a boy named Conor whose mother has been battling against cancer and is currently going through treatments. Conor has been struggling to sleep since then and keeps waking up with nightmares of darkness, wind, and screaming.
However, one night he is disturbed by a visit from a monster, but it's not the monster Conor was expecting. Instead, and stay with me here folks, it's a giant tree. Yup, a giant tree that turns into a human-like creature.
Now as weird as this might sound, Ness is able to create a wonderful story out of these seemingly absurd situations. The monster then tells Conor these three stories, similar to fold fiction, and provokes Conor to tell the truth.
Now, what is the truth? You'll just have to read and find out.
"A Monster Calls" is truly a work of art where writing and illustrations come together to create a meaningful sensation. This book will have you reaching for the tissues.
Hang on for a minute...we're trying to find some more stories you might like.
About the staffer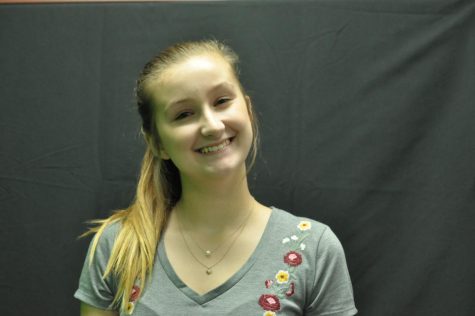 Riley Murphy, editor-in-chief
Riley Murphy is the co-editor-in-chief and this is her third year on staff. She enjoys taking walks with her two dogs (Max and Ruby) and staying active outdoors. Some of her favorite shows include "Friends," "The Office," and "The Act." If she's not watching her favorite shows, she's most likely curled up with a good mystery novel.