Varsity girls lacrosse team puts up a fight against Mundelein High School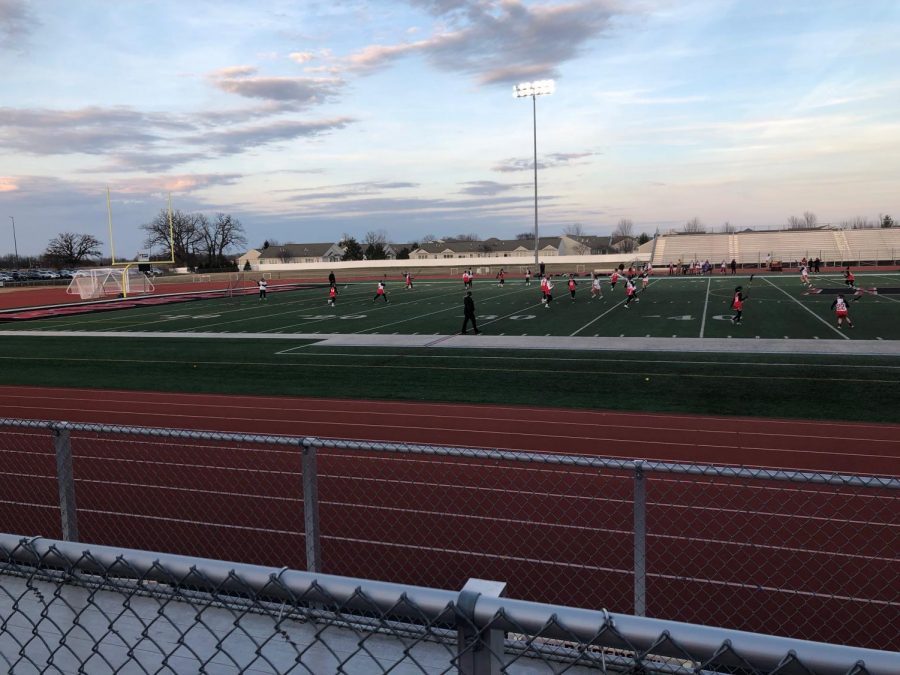 On April 1, the HHS varsity girls lacrosse team took on Mundelein high school in a neck to neck game. Although the girls tried their best and certainly put up a good fight, they ended up losing 8-15.
The game started off with junior Jessica Parker participating in the draw, but quickly losing possession to Mundelein. This pattern never let up as Huntley lost possession at every single draw.
Ultimately, this could be seen as one of the main contributors to their down fall as Mundelein scored two goals within the first minute of the game.
"As of right now we just need to work on getting possession back when the ball is on the defensive side, and making sure we then keep the possession," junior Taylor Wentz said.
During the beginning of the game, offense seemed to be struggling to break through Mundelein's strong defensive barrier. However, the team managed not to let that get to them as they made sure their own defense was as strong as it could be.
"I think this teams is also great at keeping an open mindset, because looking at Mundelein's stats on Monday we knew they were a strong team, but we were able to hang with them until the end of the second half," Wentz said. "Going into it with an optimistic view definitely helped."
This success mainly had to do with the dependable goalie Lauren Black who managed to stop nearly every attempted goal. Recently, she has committed to Aurora University in order to play lacrosse.
After the team got their bearings and regained their balance, they managed to bring the score to a tie thanks to Parker and senior Kate Joyce.
By the end of the first half of the game, Huntley managed to bring the score to a very close 6-5. Yet due to the fact that Mundelein kept winning possession of the ball, they were able to score multiple goals.
"We have a really good team this year, and we are capable of being a really good team and having a great year," junior Jolie Woodisde said. "Our coach says that we are one of the best varsity teams that Huntley has had and I hope we can live up to that assumption."
Star players of this game included middle, junior Brooke Borchart, middle, junior Jessica Parker, middle, senior Kate Joyce, and senior goalie Lauren Black.