Board To Approve New High School Courses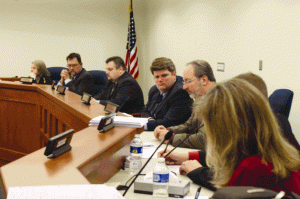 The District 158 Board of Education is set to approve new courses for the high school on January 19. The classes presented by Mike Moan, Chief Academic Officer, at the board meeting on January 5 were new special education, art, science, math and English courses.
The English Department is adding two new courses because seniors do not have many options to take to finish their English credit. Currently students have the option of taking English IV one semester and then an additional English Department course which could be Recent Fiction, Forensics, Into to Journalism, Publication Productions-Newspaper and Publication Productions-Yearbook to name a few.
As the current options are limited for that English credit Chicago Literature is one of the classes to correct this issue. The class will feature historical literature and film about Chicago. Another addition to the English Department is Film Study which will focus on film texts, history, culture, contexts of film, literature, popular culture and music according to the proposal presented to the board.
Forensics III is another class to be offered to students in the English Department. Forensics III will be a public speaking course that will build upon skills learned in Forensics I & II.
The Science Department is proposing a new AP class titled AP Environmental Science that will focus on combining biology, chemistry and physics concepts along with social sciences and economics.
"This [course] gives the opportunities to meet one of the interests of many students," said Moan.
Currently Basic Art is a yearlong class that includes 2D and 3D art in the curriculum.  The Fine Arts Department will be splitting the course into two different classes that will allow more flexibility. One being 2D Basic Art and the other being 3D Basic Art. Moan mentioned that students have told their counselors, teachers and administrators that fitting that long of a class is a common problem in their schedule.
The Math Department is adding two new courses to meet the needs at the high school. Intermediate Algebra is a class that is for students going to McHenry County College. Currently to opt-out of the math course at MCC students must score a 25 on their ACT. If that does not happen, students will then take the Compass Test which is unlike any test students at District 158 have experienced, so this class aides to prepare for this test.
"Scoring a 25 in math on the ACT is pretty difficult," said Dr. John Burkey, Superintendent.
A math score of 25 on the ACT meets MCC's guidelines of college readiness; while ACT says their college readiness standard is 22.
Discrete Mathematics with Data Analysis is just another course for higher preforming students in math classes. This course will teach Trigonometry, Statistics and Calculus.
The Special Needs Department is also adding a Life Skills class to teach home-living and work skills. This goes with the newly built Life Skills classroom in the old sweep room that features a full kitchen, washing machine and dryer, television, and bed.
These courses will not add any teachers specifically to the district, but administrators are expected to hire more teachers to the high school as student numbers are continuing to go up.
In addition to this list more blended classes are currently in the works. The administration is expected to update the board on those new classes in the next few months.
Students will being registering for 2012-2013 classes next month.
Related articles