HHS varsity Poms Team competes at state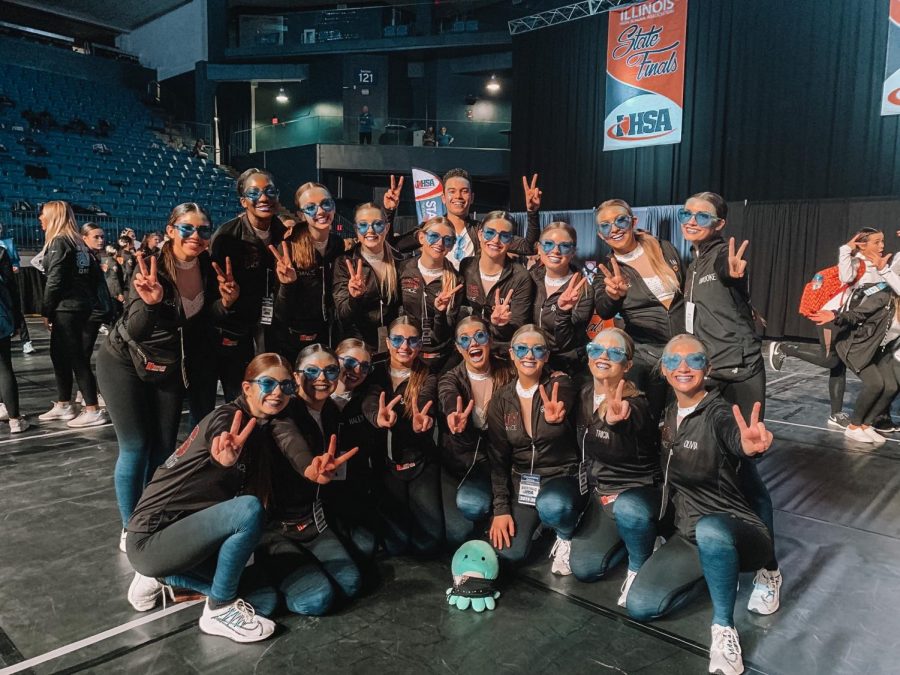 The Huntley varsity Poms Team walks onto the state floor in Bloomington-Normal on Jan. 31. They can feel the bright lights shine above them and the energy they are holding is about to burst out of their skin. Then they heard the announcer say that they may now begin their performance.
When the dance team arrived on day one, they were ready to dominate. They had a flawless performance and ended up in fifth place. They took this placement and used it as their drive to maintain in the top 5.
The next morning, on Feb. 1, the dance team practiced in the hotel conference room. They were determined and were practicing the hardest they ever have. They felt the pressure of the competition and knew that they must be out for blood in order to be successful. 
They entered the arena around 1 pm and finished getting ready. Their makeup that consisted of a tear drop and blue contour was painted on and they headed up to the top deck to get in the right mindset and stretch. After that, they headed into the warm up gym where they practiced their tricks and ran their routine. 
From there, they went backstage and waited behind a pair of ominous velvet black curtains. The team was extremely anxious, but also excited to perform. The team's song that they would always walk out to started playing. The song was "Hotel Room Service" by Pitbull.
When their time came, they walked onto the stage and a remix of "Cry Me a River" by Justin Timberlake began playing: their competition music. They killed the performance and hit every trick.
After the routine was over, emotions hit the team like a semi truck. Everyone was sobbing. The seniors were crying tears that were equally happy and sad. They had just had an amazing performance, but their dance career for the Huntley team was now over.
About an hour later, the team headed to awards. They sat in a circle and held hands. They were hoping to hear their name called but they would be proud of each other no matter the outcome. They ended up receiving fifth place and being the number one hip hop routine in the 3A state division. 
"Honestly, state was really awesome and I really loved watching my team go out there and leave everything out on the floor," said a member of the team, Olivia Maliszewski. She had back surgery in 2018 and was not able to compete in hip hop this year.
"State was really fun and we did really good and we performed the best that we ever have this year. It was really sad though because it was the senior's last year and our last time dancing together. This year was the best year ever," said one of the captains, Carly Vitellaro.
"I could not have asked for a better team. They did their best and went out there and killed it and nailed every part of their routine. I think they should have placed in the top but we are happy with our performance and we could not have done it any better. This team is phenomenal and the dream team for sure," said coach Chrissy Amling.
About the staffer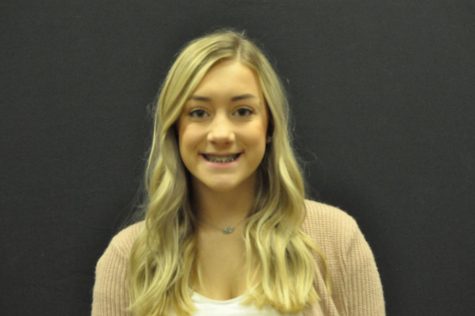 Grace Carpenter, social media editor
Grace Carpenter is a social media editor for The Voice and it's her first year on staff. Fun fact: cows are her all time favorite animal. In her free time, she dances on the dance team at school, watches murder mysteries, and eats too many bagels.