Gymnast Leah Toepfer nails the landing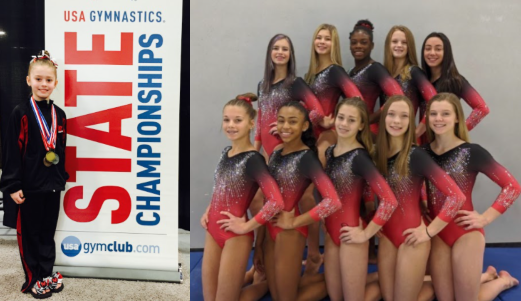 The fiberglass bar dips ever so slightly as freshman Leah Toepfer's leather-gripped hands find it again. Her fingers wrap around the bar and abs pull in tight as chalk dust puffs into the air. 
Around the 5-foot-1-inch gymnast, her teammates are doing other events in their red and black leotards, dozens of parents clap, music plays to the ongoing floor routine, judges peer at her and write notes, and her coaches and friends rally as she begins her 90-second bars routine with a successful kip mount.
"You feel so accomplished when you are able to make a skill after all the work you put into it," Toepfer said. "When you get everything done and you do a good job when you perform it for everybody."
Having done gymnastics for 11 years, Toepfer does not find the distractions detrimental to her performance. In her head, she lays out the skills she will need to execute correctly. This is easier imagined than done, though her hard work has taught her to focus her mental energy as much as her physical during any competition or practice. 
"She pushes herself to do hard things," Toepfer's mom Becky Johnson said. "Even when she fails, she gets back up and tries again, with gymnastics and school. I'm very proud of her."
Training at the Midwest Elite Gymnastics Academy in Elgin, Illinois, Toepfer has put in two years as a level nine gymnast with hopes of advancing to the final level 10 next year. To do that, she needs to learn and perfect D-levels skills, some of the most challenging there are in the sport – the kind most of us will see at the Olympics rather than accomplish.
"You have to use a lot of mental strength in [gymnastics] to throw all your different skills," Toepfer said. "[The hardest part is] having to balance your time well."
At Toepfer's level, gymnastics is an extremely demanding and all-year sport with 20 hours of practice a week. 4 hours a day, 5 days a week. 30-minute warmup, 40 minutes per event (bar, beam, vault, and floor), a 10 minute break that has turned into active stretching because of COVID-19, and 40 minutes of conditioning to top it off. Conditioning alternates between legs and stomach, arms and back, or circuit exercises.
While Toepfer's dedication has paid off in consistent state and regional qualifications amongst other prestigious victories since she joined team gymnastics nine years ago, her health has been affected. She broke her foot in fourth grade, then sprained her other foot in 2019. Not to mention her ongoing issues with tendonitis in her wrists and knee.
Yet, even when she was physically unable to do gymnastics, Toepfer showed up to support her teammates and condition herself.
"Leah is super nice and supportive as a friend and teammate. She is one of the people that I know I can trust with anything," freshman and teammate Brooklyn Kolakowski said. "Our team is really close. We joke around and find ways to have fun even when the training gets tough."
According to the 15-year-old, being with her teammates has brought her the best memories of her gymnastics career thus far. While she loves the feeling of accomplishment she gets from acquiring new skills, Toepfer cannot wait for competition days with her friends.
"When I'm competing and my teammates are cheering for me, it's always nice to hear [them] having my back and supporting me," Toepfer said. "My coaches, my family and friends, they're always there to help encourage and support me."
Her level-nine team does roughly seven competitions from January to May, mostly in Illinois and neighboring states with the occasional trip to Colorado or Texas. Toepfer has placed first in state on multiple occasions, including three wins on the uneven bars event and a first place all-around win in 2015.
"Leah's success in gymnastics means that she is learning to thrive in life," Johnson said. "She is one of the hardest-working kids I know. She pushes herself to be the best she can [be]."
Because of COVID-19, they have had to take a step back, initially with Zoom conditioning practices and now back in the gym but distanced and wearing masks between skills. On Jan. 10, Toepfer had her first competition in a while after the competition season was cut short in 2020.
After a few more moves, Toepfer readies herself for her favorite, newest skill: a bail release. She swings forward, releases her grip on the high bar, rotates herself midair, and finds her hand placement on the low bar with her legs straightened. A triumphant execution and display of discipline. It earns Toepfer first place on her team for the bars event and sets her up for a season that is sure to be full of success.
About the staffer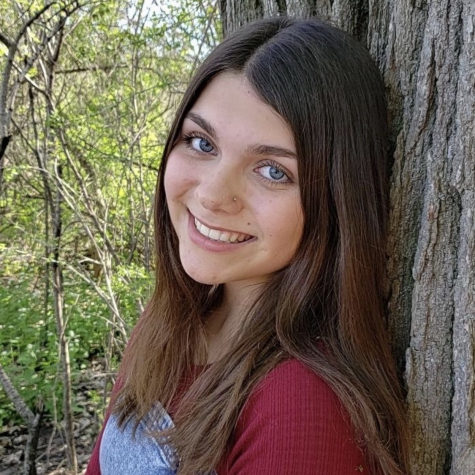 Ellie Armstrong, Editor in Chief
Ellie Armstrong is the co-Editor-in-Chief of The Voice in her second year on staff. She runs her own baking business called Ellie Rose Desserts. In her free time, Ellie likes to hike, obsess over Broadway musicals, and watch Marvel and Disney movies.