Girls volleyball puts up a fight against Burlington Central on Senior Night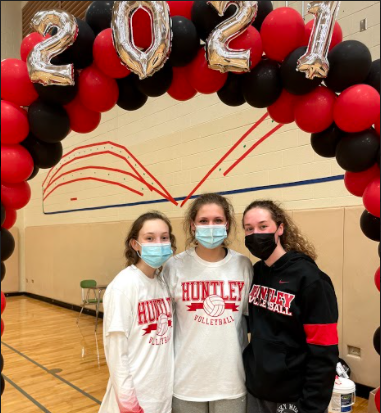 As the crowd of parents and loved ones in the bleachers cheer and scream, seniors Paige Seibert, Martyna Strzelecki, and Emma Konie walk onto the court for one of their last high school volleyball games: Senior Night. On Thursday, April 15, the girls played a tough game against Burlington Central.
After warmups, the girls lined up to honor the seniors and say farewell. Seniors Seibert, Strzelecki, and Konie each walked out with their parents and received a bouquet of flowers. It was truly an emotional moment for everyone in the gymnasium.
"Every year the seniors are irreplaceable. They mean a lot to the program," coach Karen Naymola said.
The game started with a strong push from Burlington, gaining a victory of 25-12 the first match. Huntley knew that they had to go hard on the next match in order to play a third.
The girls fought hard in the second match, pushing everything they had right to the end. Senior Strzelecki and others had great plays throughout the game.
"The best moment of the game today was when I was blocking outside and when I blocked [the ball], it went straight down," Strzelecki said.
It was a close game, but Burlington took victory with 25-23. Although it was a tough loss, the Huntley girls took the time to say goodbye and have one last moment with their teammates.
"Even though we lost, it definitely showed me a deeper meaning of what high school volleyball is and how important it is," Strzelecki said.
According to the other seniors, it was amazing to see everyone despite the challenges of the pandemic. A majority of the seniors had not seen their teammates since the 2020 season.
"They are all amazing. I love every one of them," senior Seibert said.