"Dear Evan Hansen" proves to be a meaningful musical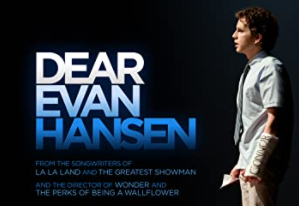 As the lights in the theater dim, the crowd hushes, and the most heart-wrenching movie begins to play. This past Friday, Sept. 24, "Dear Evan Hansen" was released in theaters. The musical highlights the importance of mental health awareness and reminds viewers that they are never alone.
Evan Hansen, a shy teenager experiencing severe anxiety and depression, runs into a school acquaintance, Connor Murphy, who later decides to take his own life. This encounter will forever impact the lives of Hansan, the Murphys, and thousands more.  Hansen, introverted and alone, desired to be noticed, loved, and a part of something meaningful, so he wrongfully claimed he was Murphy's friend when in reality they were both strangers. Regardless, Hansen helped others see that Murphy was more than an aggressive brother, more than an irresponsible son and more than the quiet kid. Murphy was struggling and wanted to be heard. 
Hansen found himself in this intricate lie. He became a part of something amazing and fought for peace for other anonymous struggling students like himself and Murphy. Hansen comforted the Murphy family and soon was loved by them as well. But as the plot continued the thinner the oak tree branch became, until the truth got out and Hansen, along with his newfound purpose came tragically tumbling down.  
Every minute caused more tears. Director Stephen Chbosky impressively captured each heartfelt scene perfectly. The acting was amazing. As if the audience were standing with Hansen, in the Murphy living room, accomplices to his well-meaning lies. The songs were deep, and the characters sang beautifully.
 Many musicals come off as too unrealistic, cheesy, and boring. Take Hamilton for example, while it is one of the most successful musicals ever, the singing paired with historical events and documents, may turn some viewers away. But the awe-inspiring acting makes "Dear Evan Hansen" hands down one of the most realistic and worthwhile musicals.  
In many ways, people can relate to Hansen. Everyone has felt invisible, annoying, unimportant and miserable. Constantly people fear that they are not good enough. Some may even consider themselves a burden. Hansen is reminded that nobody deserves to believe they are alone, unwanted, or not enough, and "Dear Evan Hansen" teaches us to pay close attention to others. Listen to their voice, notice the glimpse of pain in their eyes, hold them up when they become unstable, and be there to help them get back on their feet after they fall.