Dance out cancer event outcome
A further look into the success of this annual event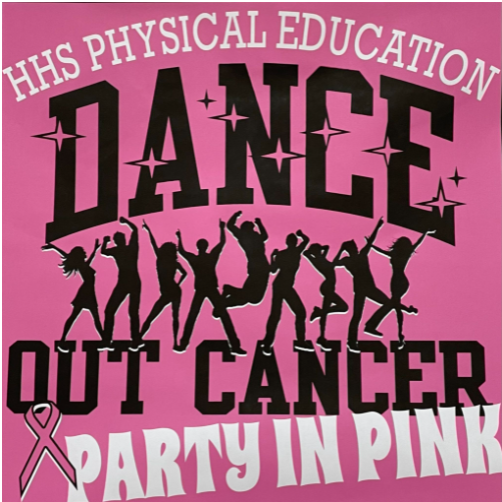 Senior Donovan Johnson walked into the gym to be presented with the sight of pink balloons, loud music, a stage, and a room full of friendly faces. For the third year in a row, Johnson was once again participating in a unique school-wide event.
In efforts to raise awareness during Breast Cancer Awareness Month, the Physical Education Department put together, once again, the Dance Out Cancer Event. This event has been happening for the last three years at Huntley High School. Sadly, with 18 months in quarantine, last year's event did not happen, but the department came back stronger than ever. 
Students were allowed to attend the event, after donating one dollar towards fundraising. 
"It felt good to be involved in the event, as I do have someone in my family who has battled cancer. It felt nice to help even if it was just a dollar," Johnson said.
Every student who donated attended the party during their gym hour. Many walked into the gym with grins on their faces as they saw the event has blossomed into something more than just music. 
"There were a lot of activities you could participate in, there was a photo wall, you could get temporary tattoos, there was a hula hoop contest, a limbo contest, and during my PE hour, the gym teachers made the football guys dance with one of the coaches up on the stage," senior Jessica Olson said. 
Students seemed to be a lot more engaged in the activities and dances this year. The amount of effort that has gone into this event has helped bring the Huntley community together and has helped a sponsored family, who has a loved one suffering from cancer. With a lot of dedication from gym teachers, the event was able to affect a lot of students and staff personally.
"Usually in conjunction with the pink out football game a family gets sponsored each year and the money goes to them, this year the sponsor was Mrs. Heuck (head of the PE Department). She was fighting cancer 8 years ago and won that battle, but now is fighting it again. Mrs. Heuck is one of my best friends so to have this event was a lot harder than it has been in other years for her, myself, and others in the department too," PE teacher Kristine Debolt said.
With a lot of help from the student body and their participation, Huntley High School has helped raise over $2,500 for Mrs. Heuck and her family. This achievement has not only affected Mrs. Heuck but also the Huntley community. 
 This small period-long event has helped students feel more connected in our community. And has allowed them to reflect on the importance of bringing awareness to a disease that has affected millions in the world, and more specifically friends and faculty in our school.