Medical Academy applications are now open
Advice from students and teachers on the best ways to prepare for application season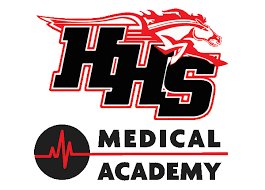 It is that time of the year again where sophomores, juniors, and seniors are finally able to see a glimpse into their future careers. Applications for the Medical Academy are officially open, and students are rushing to combine their dreams and motivations into one neat presentation.
The Medical Academy is a program unique to Huntley High School that provides endless opportunities to not only students who are interested in the medical field, but also students who just want to try it out. Medical Academy teacher Renae St. Clair encourages students with all interests to check it out.
"I really think that being in the Medical Academy is not all about finding exactly what you want to do for the rest of your life, but maybe just trying to narrow down what it is you do like or what it is you don't like," St. Clair said.
Junior Ryan Meyers joined the Medical Academy during his sophomore year because he wanted to take advantage of these opportunities.
"I wanted to try to get into the youth residency program through the academy," Meyers said.  
The first step for applying includes filling out a student information form by Oct. 8, but there are still many steps for students to complete: a parent information form, an essay, and two teacher recommendations are due by Oct. 15. 
For the teacher recommendations, they do not have to be teachers of the Medical Academy. Instead, St. Clair finds it important for students to pick teachers with classes in which they are active, a class where they are not afraid to ask questions or participate. 
Although interviews will not be held until Nov. 5, many students are already planning for what could be their first interview ever. According to St. Clair, the interviews are done in groups including approximately three students and three adults. Many of these adults are healthcare professionals from the community, but each group will also have one high school teacher. 
"Dress nice. Be as professional as you can. Be respectful. Be you," St. Clair said. 
Both Meyers and St. Clair expressed the importance of being authentic during the application process. To St. Clair, the Medical Academy is not all about the honors or AP students, but it is about the students who are willing to take a chance.
"Think about your real reasons, not just whether it might look good on a transcript for college. What's your real motivation for joining?" Meyers said. 
Although there are many steps to the application, the feeling of acceptance was totally worth it to junior Maddie Donovan. 
"I felt great. It was exciting for me because I knew I really wanted to be in it and I didn't know how selective it would be," Donovan said. 
Applications for the Medical Academy is just a glance at the opportunities students can seize for their future career, medically related or not. 
"Applying into the Medical Academy is like getting a winning ticket," said St. Clair. "You don't know what prize you're gonna get. You don't know what opportunities are going to be there. But it's a winning ticket, so how can you turn that down?"